Art intertwines with nature in Louisburg College exhibit
By Curtis Hayes, Director of Communications
Louisburg College's 2018-19 Traveling Exhibition Series is
underway and open to all members of the campus and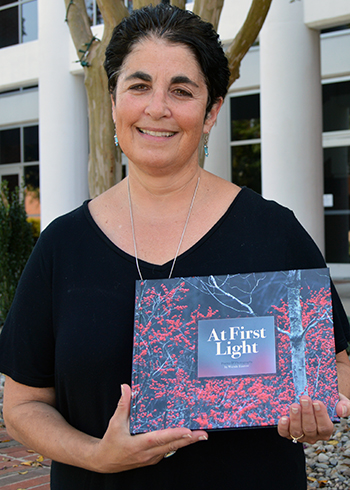 surrounding communities. The first artist being featured is "Beauty Hunter" Wende Essrow's display, At First Light, which includes poems and photography.
A sampling of this book and her other works are on display
until October 12 in the Edith C. Lumpkin Community Gallery, which is located on the north side of the Seby B. Jones Performing Arts Center (JPAC) on the campus of Louisburg College.
Essrow's art is a translation of childhood memories and circumstances intertwining with her love of nature. She has
been writing poetry, stories, taking photographs, drawing and painting since she was a young child who sought refuge in the weeping willow tree outside of her bedroom window. The
willow tree became her "emerald cave" and fortress during the times she spent outside at play trying to escape the reality
of an ill mother. Nature and her ability to write poetry and draw
became her salvation.
"The ink saved me," Essrow says. "I'm constantly seeking beauty in nature. My poetry is one big thank you note to the master designer."
Trees and horses are two of her favorite subjects.
"There's so much beauty," Essrow says. "When I wake up in the morning, I cannot wait for the adventure of what I'm going to find during that day. I have the eyes of wonder of a child."
Art was a strictly personal and therapeutic hobby, until her artist son encouraged her to share it with others outside of her family and the children she taught. Essrow spent thirty years as a special education teacher before retiring to rural Franklin County with her husband.
"My son said let me show you how to make a book, and I took the book to somebody (the owner of a local bookstore)," she recalls. "That person went nuts, and the rest is history."
Essrow says she follows her intuition and the threads of energy that arrive when creating art. She also says she hopes her journey will inspire others to listen to themselves and be true to the core of what they believe in. People should hone their skills and take advice, she says. However, at the end of the day, they should remain loyal to what they are trying to express through their art.
She says the highlight of her professional art career has been having her books added to the gift shop of her favorite gallery: The McMichael Canadian Art Collection in Kleinburg, Ontario, Canada, northwest of Toronto.
"To be among my favorite artists on the shelf was extraordinary for me!" she exclaims.
Essrow also has some practical advice for anyone who wants to share their art with the world or try to make a living as an artist. "If you don't have the marketing, advertising and social media understanding, you can be the most brilliant artist in the world, but your work's not going to get out there," she says. "It's a lot of footwork."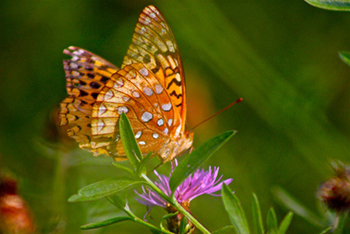 Books written and illustrated by Wende Essrow:
The Paintbrush Dreamer
If You Listen to the Trees
At First Light (available for checkout in Louisburg College's Robbins Library)