Tree Campus USA and National Sustainability Month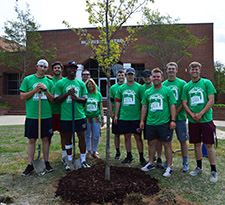 October is National Campus Sustainability Month. It's, therefore, a good time to note that Louisburg College was honored with the Arbor Day Foundation's 2017 Tree Campus USA® recognition for its commitment to effective urban forest management.
The college is currently in the process of applying for its 2018 Tree Campus USA® certification.
"Louisburg College is one of only 364 colleges and universities to receive this special distinction that sets your campus apart from other schools and shows
your commitment to encouraging students and university personnel to care for our planet's tree resources," Arbor Day Foundation President Dan Lambe wrote.
Tree Campus USA® is an Arbor Day Foundation program. The program honors colleges and universities for effective campus forest management and for engaging staff and students in conservation goals. Louisburg College achieved this title by meeting Tree Campus USA's five standards: (1) maintaining atree advisory committee, (2) a campus tree-care plan, (3) dedicated annual expenditures for its campus tree program, (4) an Arbor Day observance, and (5) a student service-learning project.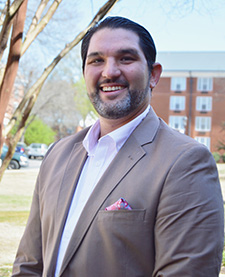 "Here at Louisburg College, we are committed to preserving and enhancing both our community and our environment. Louisburg College has always had a deep connection to 'The Oaks.'" Said Nathan Biegenzahn, Associate Vice President of Facilities. "It's only fitting that we receive national recognition, acknowledging that we are a college that promotes environmental stewardship, a healthy community forest and student involvement."
FAIR TRADE PRODUCTS IN CAMPUS DINING
In other sustainability news, Chartwells Higher Education, in conjunction with Fair Trade Campaigns, announced its commitment to sourcing Fair Trade products at all 280 Chartwells' locations across the country. Chartwells is the food service provider for Louisburg College.
The October 11th announcement was made during the 2018 Fair Trade Campaigns National Conference in Washington, D.C. This initiative builds upon Chartwells' goal to become the first higher education food service provider to offer Fair Trade status in partnership with all their accounts, according to the criteria set by Fair Trade Campaigns.
Fair Trade is a rigorous certification that ensures the products purchased by consumers are grown, harvested, crafted and traded in ways that improve lives and protect the environment.
Fair Trade Campaigns is a grassroots advocacy organization that works directly with campuses and institutions across the U.S. to educate students and leadership about the issues, and support them as they work to source Fair Trade products.