Spring check-in sparks excitement as students return to campus
by Curtis Hayes, Director of Communications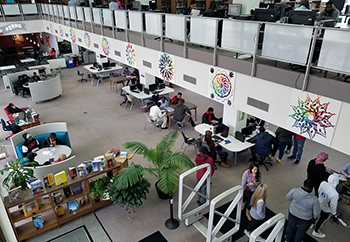 The cold days of winter seemed a bit warmer on Monday, January 14th as Louisburg College welcomed new students for the spring semester.
"I'm excited," said Miya Hargraves, a Louisburg College sophomore from Cary. She was helping new students with the check-in process as part of a College leadership program.
Monday, January 14th, 2019 is set aside as check-in and an orientation day for new and returning students and their parents. Tuesday, January 15th is when returning students check-in. Spring classes begin Wednesday, January 16th.

Lisa Landis, of Raleigh, was with her son Sam Landis, 20, as he was checking in. Sam is a transfer student who went to high school at Ravenscroft in Raleigh. He will major in science and also play football for the College. Sam was attending college in West Virginia, but was sidelined by a knee injury. His physical health is better, and he said he is excited to begin a new chapter at Louisburg College.
Lisa Landis and son Sam Landis, 20, of Raleigh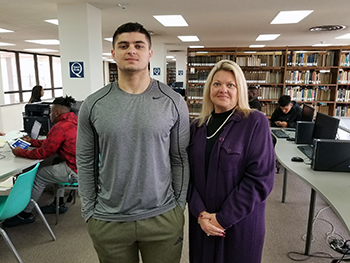 "It's the best option for me," he said. "It's closer to home. It's a nice campus, and there are dorms. It's the nicest two-year college I could find."

Lisa said she is excited to have Sam only 30 minutes from home. In addition, she said she likes the smaller class size at the College and the fact that everyone is warm and welcoming.
"They made me feel at home," Sam added.
New students can contact Louisburg College Student Life Office, 919-497-3247 or karengupton@louisburg.edu, with any questions or concerns.