Methodist Helping Methodist: Louisburg College's spirit of giving helps at-risk youth during holidays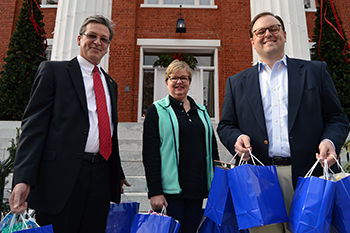 by Curtis Hayes, Director of Communications

Louisburg College's spirit of giving was on display November 30th as a donation of travel-sized personal hygiene items was provided for children in care at the North Carolina Methodist Home for Children.
The travel-sized items, which were donated by alumni, students, faculty and staff during the College's annual Homecoming celebration, are now helping at-risk children and teenagers all across the state. Mostly teenagers, these young people are transitioning through the Methodist Home's assessment centers after being transferred out of state detention centers.
Jennifer Cooper '85, administrative assistant for the Advancement Department at the Methodist Home, accepted the items and said they are meaningful especially during this season.
"We will receive youth right before, during and after the holidays," she said. "It's important that they have items that they can call their own."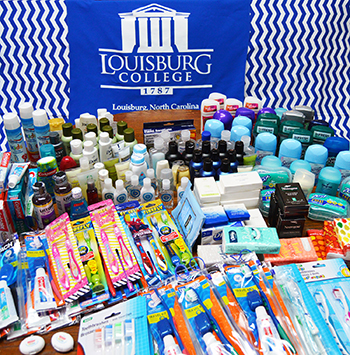 Cooper said there is an ongoing need for assistance at the Methodist Home for Children, and anyone can donate, at any time of the year, by visiting the organization's website: www.mhfc.org
Top right photo cutline, (left to right): Louisburg College President Dr. Gary Brown, Methodist Home for Children Administrative Assistant Jennifer Cooper, and Louisburg College Vice President Chad Barefoot.