Homecoming Week celebration highlighted by fellowship, fun, friendships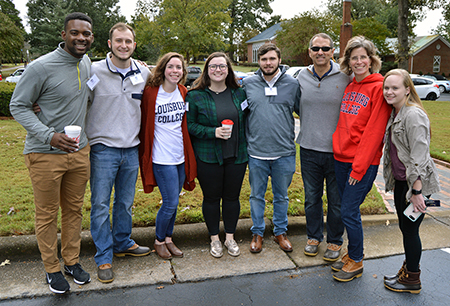 by Curtis Hayes, Director of Communications
Alumni, faculty, staff and friends celebrated Homecoming on Main, October 27th, with what turned out to be a beautiful cool, autumn day filled with gentle reminders of the wonderful friendships and experiences shared at Louisburg College over the years.
"It's always good to come back to Louisburg College," said Paul Wilson '61, President of Louisburg College's Golden Anniversary Council. "The main thing is it feels like home when you come to Louisburg. That's a good Homecoming when it feels like home."
Long-time friends and classmates gathered around a tempting buffet of Parker's barbecue, fried chicken, Brunswick stew and BerryCane ice cream, while a live DJ played some of their favorite tunes from over the years. One couple was even spotted shagging in front of Main. The alumni and their families also enjoyed lawn games, a moon bounce and, of course, the fellowship of old and new friends.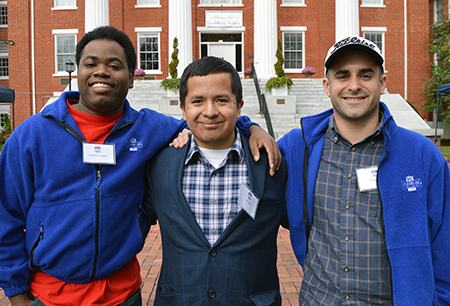 "There are so many old friends that you've stayed connected to," said Linda Hudson '68.
She said she would recommend Louisburg College to anyone who is considering institutions of higher education.
"I think it would be a positive life changer for most children. You have professors who care and nurture and help you if you are struggling," she said.
The Class of 1985 won the inaugural Class Giving Challenge. A plaque dedicated to winners now hangs in the entrance to Main beside the President's Office. Generosity and a reminder of the College's relationship to the United Methodist Church was also on full display as alumni donated travel-size toiletries to the College, which will benefit children in care at the North Carolina Methodist Home for Children.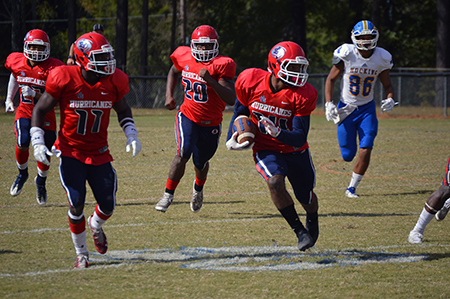 Sports were also a part of the day, as those in attendance cheered on the Hurricanes football team to a 49 to 35 victory over Hocking College. The Hurricanes record is 5-2, with two games left. The women's basketball team also played a home scrimmage against Chowan University. There was also a Homecoming Pep Rally where the Louisburg College King George Lahai and Queen Miya Hargraves were crowned.
Members of the Louisburg Society attended a VIP reception during Homecoming week, October 25th, and were treated to a delicious reception of hors d'oeuvres and a performance by the United State Navy Band Commodores.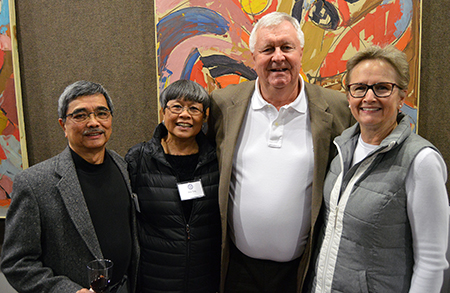 Another highlight of the week was the presentation of Alumni Awards in recognition of the outstanding efforts of Louisburg College graduates.
"I think we're doing a great job of preparing people for continuing their education or for life," said Charles Knight, President of the Alumni Association. "We're sending students out of here with a grounded appreciation for what it takes to be successful."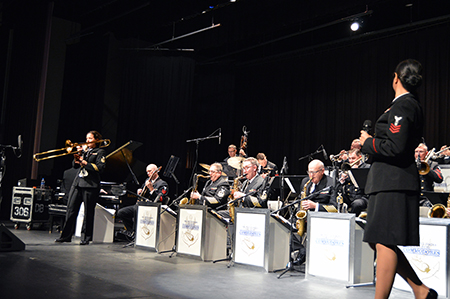 The awards and the recipients were as follows:
The Dr. Cecil W. Robbins Public Service Award was presented to Maury York '73: Maury is best known locally as the founder of the Tar River Center for History and Culture at Louisburg College. The Center promotes a sense of community and shared history by helping citizens of all ages and backgrounds explore the rich architecture, culture and history of the Upper Tar River region of North Carolina. He submitted a successful grant application that helped fund a new, historically accurate cedar shake roof for the College's historic Male Academy. Currently, Maury is completing a term as president of the Historical Society of North Carolina. Among his many awards is the prestigious Order of the Long Leaf Pine.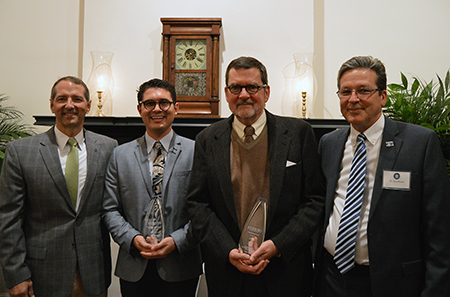 The Henry Douglas Lindsay III '66 Young Alumnus Service Award was presented to Nicholas Skerpon '15: Nick was part of the first graduating class of the Roger G. Taylor Honors Program at Louisburg College. He led the first peer tutoring group at Louisburg College. He also became the president for the business fraternity, PBL. Nick made the Dean's list every semester, was a member of Phi Theta Kappa, received the Presidential Scholarship and graduated with a 3.89. He joined our Alumni Association Board of Directors in 2015. His baseball talent landed him a spot on the Ithaca College Varsity team and a chance to coach its JV team. Nick continues to mentor young people. He works for Amazon.com, where he leads 24 associates in daily operational tasks.
The Distinguished Alumnus Award went to Bob Johnson '78: Bob has served as President of House of Raeford Farms in Rose Hill, North Carolina since 1997. Under his leadership, House of Raeford has consistently been one of the 10 largest chicken producers nationally. He also strongly believes in giving back to the communities where House of Raeford has operations. Bob's vision spearheaded the founding of FLOCK in 2009, a nonprofit charitable giving arm of House of Raeford that partners with organizations to develop our youth, feed the hungry, and support addiction recovery programs.
The Outstanding Young Alumnus Award went to Cedric Mullin '14: While at Louisburg, Mullins was named Male Scholar Athlete of the Year after his sophomore campaign. He completed his Associates in Arts degree with a perfect 4.0 GPA, graduating Summa Cum Laude. Upon his graduation from Louisburg College he went on to continue his education and baseball playing career at Campbell University. Cedric now plays, professionally, for the Baltimore Orioles and always credits Louisburg College for his successes in baseball and the classroom.
The Alumni Awards reception was held at the Historic Person Place and featured an eclectic southern menu prepared by our Director of Food Services, Wesley Dills and Louisburg College's chef, Michelle Smith.