Dreams Become Reality for George Lahai '19
by Curis Hayes, Director of Communications
Louisburg College's Student Government Association President George Lahai won the lottery and has been working toward his American dream ever since. The prize, however, was not money. It was the chance for USA citizenship and the opportunity for a proper education away from the death, despair and poverty of his homeland.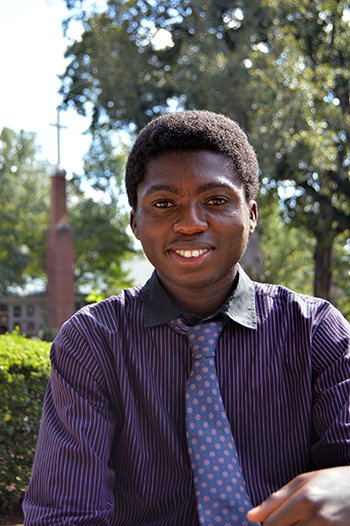 Lahai had previously applied, and was chosen at random in 2015, to receive one of 55,000 U.S. Diversity Visas. The visas are awarded each year to entrants from countries with low rates of immigration to the United States. The program is commonly referred to as the "Green Card Lottery," because winning it means a new life for the recipient.
"For people in my country of Sierra Leone, it is like winning a million dollars," Lahai said. "As a child, I lived through civil war, the Ebola epidemic, as well as terrible floods that washed away much of our city."
Lahai also survived the poverty that comes from life in a country without the resources to rebuild after suffering such hardships.
"There is little opportunity for people," he continued. "Many don't have jobs. They cannot afford food, education or healthcare. But I had one thing that many of the members of my country did not. I had a father who knew the value of education. A father who was honorable, kind and generous."
Sierra Leone, West Africa is where Lahai was born. He grew up near the capital of Freetown and never left his homeland until the day he boarded a flight to North Carolina. He said he chose the state because his sister and a cousin had previously relocated to Chapel Hill. Fortunately for Lahai, his path led to Louisburg College where he is a sophomore studying business.
"To waste this chance would essentially mean sacrificing the opportunity I have to help and to better myself. I decided to work hard, focus, and get help when I needed it," he said. "I'm here as an ambassador for my family. I'm here to earn an education, to make friends and explore my talents. Louisburg College has made all those things happen."
With so many options in North Carolina, how did Lahai find Louisburg College?
"It all started when God led me to the Carrboro United Methodist Church and Reverend Rani Woodrow," he said. "She recommended Louisburg College. I came to visit, and on the first day, I fell in love with Louisburg College."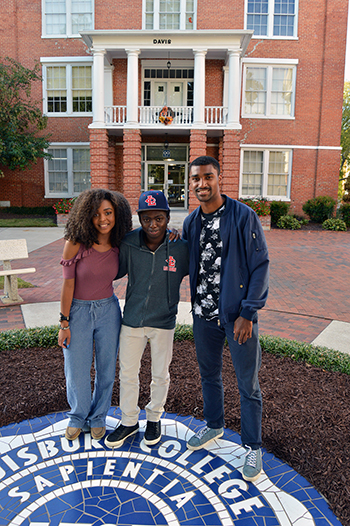 He said the College has a tight-knit community that is like an extended family. Lahai said he knows his professors, and they also know him and make time to help him. He said he especially likes the fact that he and his friends also help each other.
"Louisburg College is the best thing that has ever happened to me."
"It has changed my life socially. It has changed my life academically. It has changed my life spiritually. And also, it has helped develop my leadership skills as the Student Government Association President," Lahai said.
In addition to leading the SGA, Lahai is an honor's student and a resident advisor. He was also voted the Best Business Student during his freshman year and was the recipient of the David Whitman Shearin Scholarship Award.
Lahai is on track to graduate in May 2019 with his associate's degree. He hopes to transfer to a four-year institution, major in accounting, earn a master's degree and become a licensed Certified Public Accountant (CPA). He would like to open his own firm in the USA or in Sierra Leone. Yet, that isn't the end of his dream: "In the future, I would like to become the President of Sierra Leone," he said. "I would like to help poor people, the homeless, orphans and widows."
Lahai said that because his style of English is different, he visits the campus writing lab as part of his daily routine.
"Louisburg College is full of opportunities and resources that are helping me to succeed and excel beyond my wildest dreams," he said. "I encourage and challenge you to take advantage of the resources and opportunities that are here for you."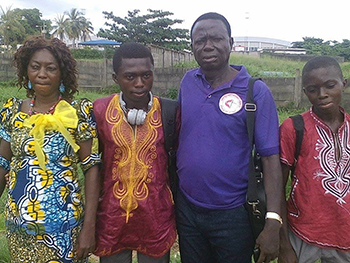 Lahai said that his motivation to succeed is self-improvement, but there is also one guiding light that keeps him focused.
"The great father I mentioned who was my best advocate and inspiration died in 2017," he said. "But he is still with me. He is still inspiring me. And I hope I am making him proud as I walk through this new land far from my West African country across the sea."