First Pitch Gala to benefit Louisburg College Baseball and Softball Teams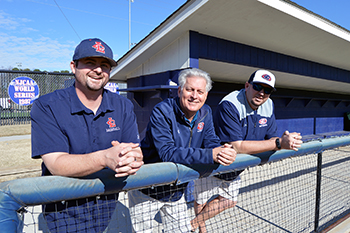 by Curtis Hayes, Director of Communications
Louisburg College's baseball and softball programs are working together with alumni and supporters to help preserve the tradition of excellence associated with both teams as they head into their highly-anticipated season openers.
Louisburg College's baseball team opens at home on Saturday, February 9th versus Guilford Technical Community College. The softball team opens a week earlier at home on Saturday, February 2nd versus Belmont Abbey College. Both openers are double-headers with 1 p.m. and
3 p.m. start times.
Blake Herring, 33, is head coach of the baseball team. He is working with head softball coach Eric Lee, 32, to organize the First Pitch Gala. Louisburg College alumni, supporters, faculty and staff are invited to the event to help support both programs. The event is scheduled for Saturday, January 26th, 5 p.m., in the Roger G. Taylor Athletic Center. Tickets are only $25. The formal event includes updates from Coach Herring, Coach Lee and comments from Jonathon Rand of 99.9 The Fan ESPN Radio, as well as a sit down meal, a silent auction and reverse lottery drawing. The deadline to reserve your seats is January 19th, so don't delay! To purchase tickets, contact: Sara Lippard, assistant softball coach, 919-497-1100 or slippard@louisburg.edu.
At 33-years-old, Louisburg College's baseball coach, Blake Herring, has been with the team for seven seasons: three as assistant and this spring will be his fourth season as head coach. Herring was the pitching coach at Millbrook High School in Raleigh for one year. He also coached the pitchers at Carson Newman University in East Tennessee, after playing college baseball where he pitched in the National Junior Collegiate Athletic Association (NJCAA) Baseball World Series.
He also teaches health and wellness at Louisburg College and previously worked for two years with Student Life as a mentor. In addition, he serves as a member of the Tree Campus USA Committee.
Herring's players are prepared for the season ahead, and they are also looking forward to meeting supporters during the First Pitch Gala.
"The baseball team sees this Gala as an opportunity to galvanize support behind our historic program," he said. "It also gives alumni, parents and friends of the program an opportunity to engage with our players at the beginning of their collegiate careers, some of whom may end up playing in the major leagues."
Herring said Louisburg College's young athletes are benefitting from the previous generous support of donors who are helping the team realize current upgrades to the baseball facility. In addition to playing in modern facility, Herring said the team benefits from Louisburg College's structure and traditions.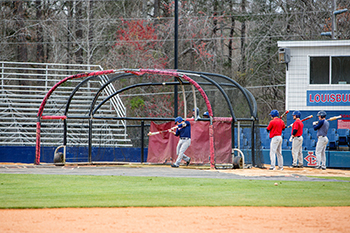 He explained that one of the biggest opportunities at the junior college level is there aren't juniors and seniors on the team, so Louisburg College players have the chance to immediately play and be leaders on and off the field. It's the coaching staff's responsibility to mentor these young players and prepare them for the challenges of competitive college baseball.
"While many of our young players are earning immediate playing time, developing their skills and learning leadership techniques, the players at other colleges and universities are 'riding the pine,'" Herring said.
Louisburg College's baseball team has been to the World Series 10 times since it's legendary Coach Russell Frazier started the program toward its tradition of excellence in 1959. Frazier retired in 1999, and the team last attended a World Series in 2002. Louisburg College baseball experienced a slight downturn, but it's currently on a winning trajectory under Herring's administration, with a 31-22 record last season.
"The players, coaches and alumni have created the standard of excellence, and it is the NJCAA Division I Baseball World Series in Grand Junction, Colorado. So unless we get there, it doesn't matter how many games we win," Herring said. "The ultimate strength of this team is they don't think they're going to lose. They're never out of the game mentally."
The team is working hard so the local community, alumni and supporters have reasons to remain engaged and enthusiastic about baseball and become more involved with the team.
"There isn't a better show on Saturdays and Sundays, in the Town of Louisburg and throughout Franklin County, than what's happening at Frazier field," Herring said.
Follow the team this season on its Twitter feed: @LCBaseballnews
The softball program at Louisburg College began in 1977 under the direction of legendary coach, Sheilah R. Cotten. She would go on to guide the program throughout the next three decades to unprecedented success on both the regional and national levels. In all, the program has won 23 Region X Championships and been to six NJCAA Softball World Series.
"This Gala is to help ensure that our kids and our fans continue to have a great experience," Lee said. "The money we raise is all going toward larger projects, including many of the things that need to happen to stay in compliance with regulations of the NJCAA."

Lee is in his second season with Louisburg College. He previously served on the coaching staffs of Campbell University and the University of Mount Olive. His Louisburg College team went 29-10 last season and won the Region X Championship. The team was just two victories shy of a trip to the World Series.
"I feel like this is our year. We're better than we were a year ago," Lee said of the 14 freshmen and 7 sophomores on the team.
With 52 games on the schedule, keeping everyone healthy and fully-engaged can be challenging.
Coach Lee said he follows a three-point philosophy, Faith, Family & Team, to help his players succeed during the season.
"We're all about priorities," he added. "Wins and losses will take care of themselves, but the most important things we do are to get our players an education and make sure they have a good experience at Louisburg College."
Lee said the College's commitment to the Christian faith is part of his program's formula for success.
"We make sure that's something present in our program," he said. "We don't claim to be perfect, but we do want our kids to know that softball is a just byproduct of us doing the big three the right way: Faith, Family and Team."
Louisburg College's family philosophy is another aspect that Lee incorporates into the program.
"We keep our players' families involved by organizing events like our Family Day in the fall," Lee said. "Our team is also a family. At the end of the day, families find ways to support each other."
The coach said he is proudest of his players when they exhibit their belief in the Faith, Family and Team philosophy promoted by the program and the College.

"I think you have to be invested in order to be successful. Buying-in means you're not self-seeking, but rather you're focused on what's best for the family and the team," he concluded.
Follow the team this season on its Twitter feed: @CoachLee_LC