Storytelling through textile art is focus of new exhibit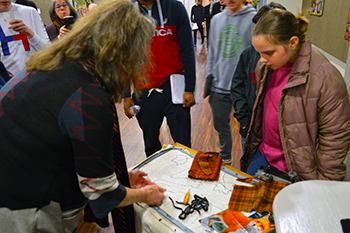 by Curtis Hayes, Director of Communications

Textile artist Sherri Hieber Day shared stories of her three decades of craft with students and visitors during her exhibit opening January 17th at the Edith C. Lumpkin Community Gallery in the JPAC at Louisburg College. Her pieces remain on display through March 8th.
"I think of my work as storytelling adventures. Most pieces refer to my interaction with family, friends and the natural world," Day said. "I have a great love of the cycle of life and a great joy in living. An appreciation for the moment. Each one of these rugs is part of a story. It's not just making a picture, but it's really capturing the energy and enthusiasm of that subject."
Her journey into the world of textiles evolved while she was working primarily as a printmaker. Gradually, she found herself enamored with the textured surface of the block rather than the finished print itself. She experimented with a number of mediums and discovered hooked rugs. She was finally able to satisfy her desire to create work with a physically animated surface.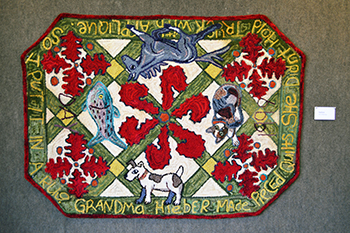 Over the years, Day has earned income outside the art world, but also as an artist by working on commissioned pieces for a variety of clients. Each hooked rug is extremely labor intensive.
"I think being an artist is a very hard job, but I think being a poet might be harder," Day said. "I think that you really have to go to school and do what you really love to do. Much of my life has been like a double life. Being an artist and then having to do something else to support myself."
Day said one of the benefits of working in her medium is that it allows the artist to work in small blocks of time, which is difficult to do when creating paintings or ceramics.
Day graduated from Drew University in Madison, New Jersey with a B.A. in Studio Art and Art History in 1981. She also graduated from New York University in New York, New York with an M.A. in American Folk Art Studies in 1993. She has taught numerous workshops throughout the USA and England.
She currently lives in Long Valley,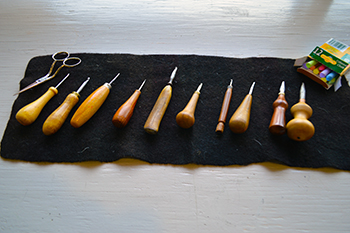 New Jersey with her husband Chris in their 150-year-old home that was originally a General Store.