Louisburg Dance Company's Fall 2018 Concert a WOW experience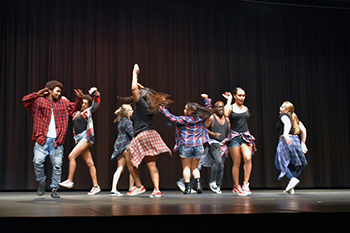 Story by Curtis Hayes, Director of Communications
Photos by Robyn Diaz
After an extended hiatus from the campus arts scene, the Louisburg College Dance Company is back and thrilling audience members with its entertaining mix of dance, visual art, music and storytelling.
The company's recent two-night's-only event, November 30th and December 1st, at the Seby B. Jones Performing Arts Center (JPAC) featured contemporary, hip-hop, jazz, and dance improvisation and received rave reviews from fans, including through Facebook and via email:
Facebook Comments
Savoy Abney: "It was a very great show. I encourage you all to come to the next one."
Phyllis Ihrie: "They did a grrrrrrrreat job!!!"
Harriett Pavon-Rosado: "I enjoyed the show!"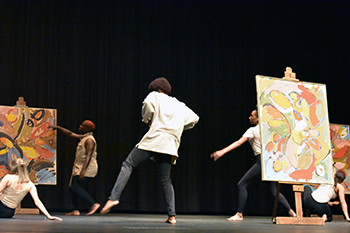 Emailed Comments
"I attended your program Friday night and was pleasantly surprised!!! I've never seen a group of students from LC perform like they did. They were serious about their dancing!! I could tell that they had really practiced. I just wanted you to know how much I enjoyed it!!" Phyllis Ihrie wrote.
"WOW! WOW! WOW! WOW! Just saw tonight's performance by the Louisburg College Dance Company. It was one of the most energetic and entertaining student shows I have ever seen," Will Hinton wrote.
Bringing the art of dance to Louisburg College, the Dance Company's show was a collaboration between live dance, art and music. It featured the art of Jane Bolmeier and a live music performance by Louisburg College instructor of music Angela Adkins.
Projection Designer Jennifer Petuch, an instructor at Florida State University, collaborated with Louisburg College's Director of Dance Ryan P. McMullen on the concert, which also featured an Aretha Franklin tribute.
"I try to balance concert dance and commercial dance," McMullen said. "With some hard work and clear direction, you can build something and be proud of it and show it."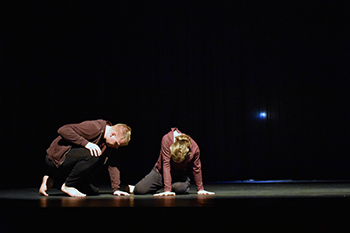 There will be another show in Spring 2019.
Louisburg College Dance Company
Artistic Director: Ryan P. McMullen
Fall Guest Artist: Jenna Marie Hanlon
Lighting Designer: Robert Poole
Live Music: JaQuan McGhee
Stagehands: Myah Adams, Adia Ford-Alston
Performers: Danielle Cook, Anjelica Crews, Tatiana Figueroa, Victoria Gault, Cherish Heckstall,
Markese Simmons, Keagan Smith, Britanni Spalty, Jenna Marie Hanlon
Guest Performers: Kentoria Earle and Taari Coleman