Christmas spirit shines brightly at Louisburg College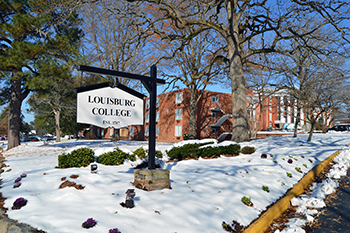 by Curtis Hayes, Director of Communications
The Christmas season at Louisburg College is a time of quiet reflection as students put their learning to the test with final exams, but it's also a season of giving, entertaining, traditions, and this year, snowfall.
Because it can be a particularly challenging time of year, the holidays are especially geared toward total student success. Louisburg College offers its students those little extra comforts that help them tackle the stress of final exams. In addition to the typical academic support available through tutoring at math, reading and writing labs, the College also provides students with the resources necessary to support their emotional and physical well-being.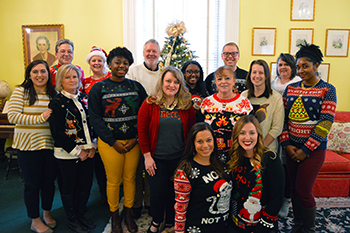 On December 11th, for example, the College sponsored a Relaxation Day for students as they headed into the final stretch of the semester, complete with an oxygen bar, chi machine and foot and chair massages. Later the same day, students were treated to comfort foods during the Exam Cram late night breakfast with one-on-one study opportunities.
The College's Beat the Blues Week was also geared toward providing students with the resources they needed to be mentally prepared for the stress of final exams and the cold and flu season.
"We see a rise in students in crisis with increased illness and the pressure of exams," said Christopher Reid, Louisburg College's Director of Housing & Residence Life. "We want to help take care of them."
Louisburg College's Chaplain and its Associate Vice President for Health and Wellness work with students in crisis, but the ultimate goal is to make sure they don't reach that point.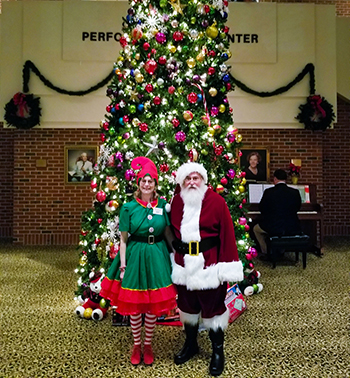 "Our goal is for our students to have success and be healthy in their mental, academic and social lives," Reid said. "We offer time management and stress management counseling."
Through its family atmosphere, Louisburg College has proven successful in graduating all-around, healthy students through its commitment to their total well-being. Students are educated in liberal arts, but also the science of living, including sleep behaviors, eating habits, exercise benefits, healthy personal relationships and social networks, personal organization, self-health monitoring and combating burnout fatigue.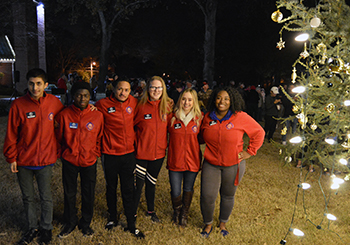 Part of the effort is involving students in the celebration of Christmas on campus. They decorated and participated in the lighting of the campus Christmas tree. They helped bring in donations for the College's gift tree for local children-in-need. Their spirit of giving was also on display as a donation of travel-sized personal hygiene items was provided for children-in-care at the North Carolina Methodist Home for Children.
Students were also able to enjoy the College's vibrant arts scene and athletic events during the holidays. Louisburg College's Seby B. Jones Performing Arts Center (JPAC) has been at the heart of providing opportunities for students and the region's residents, businesses and communities to participate in the arts, entertainment, theatre, and much more since 1989. And, it shines brightly for Christmas.
"It's the only thing like it in the region," said Robert Poole, Director of the JPAC since 2001. "It's the community center and the civic center."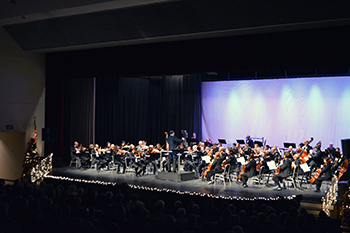 The JPAC is a multipurpose facility consisting of several different venues in one gigantic facility, centered around the 1,200-seat Frances Boyette Dixon Auditorium. In addition, the JPAC houses the Norris Theatre, the Elizabeth Tiel Faulkner Gallery (permanent art collection), the Edith C. Lumpkin Community Gallery (traveling art exhibition series), the Emily and Scott Gardner Concert Stage, and the Seymour Holt Lobby.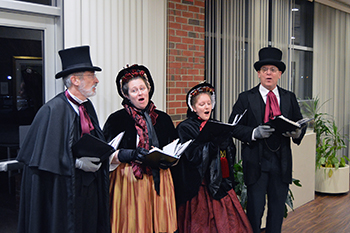 The highlight of the Christmas season at the JPAC is definitely the North Carolina Symphony's Holiday Pops performance. This year, Santa and his favorite elf made the December 8th show, as well as traditional carolers and a lobby brimming with holiday refreshments.
In addition, the United Methodist Church held a regional Christmas event prior to the concert, and Louisburg College also hosted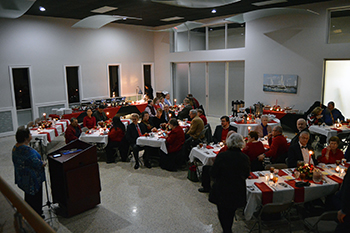 a pre-concert meal for patrons of the arts.
After an extended hiatus from the campus arts scene, the Louisburg College Dance Company returned and thrilled students and other audience members with its entertaining mix of dance, visual art, music and storytelling on November 30th and December 1st.
"I attended your program and was pleasantly surprised!!! I've never seen a group of students from Louisburg College perform like they did. They were serious about their dancing!! I could tell that they had really practiced. I just wanted you to know how much I enjoyed it!!" wrote local resident and former Louisburg College employee Phyllis Ihrie.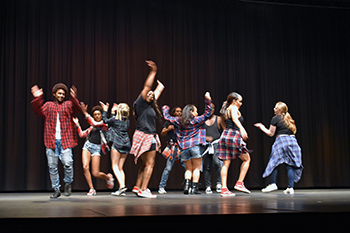 Louisburg College's Winter Student Art Show, on December 11th, provided a break from the season's first snow and pre-exam cram for a look at the selection of drawings and ceramic works created by art students during the 2018 Fall Semester.
Art Instructor Will Hinton said his student artists are great listeners who appreciate the messages of their lives and those of others. The reason their works may speak to others is because they have portrayed those stories in their pieces, which others may be able to share and relate with.
In addition to academics, life lessons, music and art, Louisburg College has an active athletics program with both the women's and men's basketball teams entertaining fans with tough play and victories during the holidays. The women's basketball team was 9-1 heading into the break, and the men's team was playing tough and staying above the .500 mark at 6-5.