Louisburg College welcomes new Vice President of Academic Life
by Curtis Hayes, Director of Communications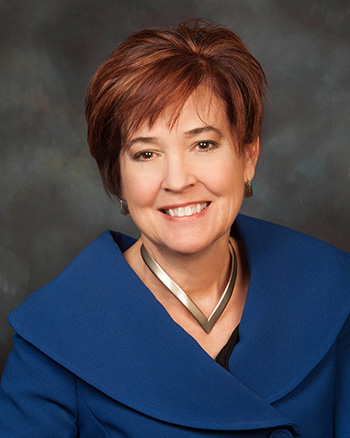 Louisburg, NC—Louisburg College is pleased to announce the appointment of Dr. Bonnie Suderman as Vice President of Academic Life and Dean of Faculty.
Dr. Suderman will serve as the chief academic officer for the College, having responsibility for educational policy, academic programs, the assessment of student learning, the advancement of student success, curriculum development and accreditation.
"Congratulations to the search committee on a job well done," said Dr. Gary Brown, President of Louisburg College. "We put students first at Louisburg College, and Dr. Suderman's record of achievements and commitment to higher education and student success is inspiring. She is extremely well-qualified to help lead our faculty and academic programs into the future."
Suderman's track record of success includes developing, implementing, supervising and evaluating instructional programs in her previous role as Assistant Superintendent and Vice President of Academic Affairs at Antelope Valley College in Palmdale, California. During her tenure, she led the team that developed new programs and innovations for the College. She also personally wrote and managed grants at Bakersfield College in Bakersfield, California that helped students improve their math study skills, among other accomplishments.
"I have experience at both public and faith-based institutions, and share and support the mission and values of Louisburg," Suderman said. "All of my work is geared toward strengthening our ability to offer both a quality educational experience to our students and the supportive environment they need to succeed."
Although Suderman has experienced great success during her career, she has immediate family living in the Research Triangle Park, North Carolina area and is excited to relocate.
In addition to family ties, there are also several other reasons why she applied for and accepted the position with Louisburg College.
"When I had the chance to meet the people of Louisburg College and speak to the students, I found that Louisburg College is exactly what it advertises: a place that truly values education and having an impact on the lives of its students," she said.
Suderman is already looking toward future success as a member of the Louisburg College family and helping others achieve their own goals.
"I am an energetic, dedicated educator," she said. "I love teaching, and I love working with people on both completing big projects and solving small problems. I love seeing my faculty and staff succeed and the students learn and grow."
Like many people who work in the field of education, Suderman said helping students is the best part of the job.
"My favorite part of being part of a college staff is definitely seeing the positive impact we have on the lives of our students," she said. "There is nothing better than that!"
In her spare time, Dr. Suderman and her husband rescue abandoned pugs, enjoy home improvement projects and outdoor activities. They have three dogs, as well as two grown daughters.
Dr. Suderman served Antelope Valley College from July 2014 to December 31, 2018. She was also the Dean of Instruction at Bakersfield College in Bakersfield, California from 2007-2014. She was a lecturer at California State University, Bakersfield from 1995-1998. Suderman earned her Doctor of Education, Ed.D., from the University of the Pacific in 2005 and her Master of Arts, MA, in Literacy from California State University, Bakersfield in 1995.