Louisburg College Hurricanes football is 'Best Chance U'
Fans urged to attend first home game; kickoff is 1 pm, Sept. 8
LOUISBURG, NC - Louisburg College's football team plays at home for the first time this season at 1 p.m., Saturday, September 8 vs Littlejohn Sports Academy on the Louisburg High School field.
Fans who couldn't make it to the first two away games can look forward to watching a fast-paced, high-scoring offense supported by a strong, dominating defense. The Hurricanes are ranked in the top 10 in the country right now in both offensive and defensive statistics.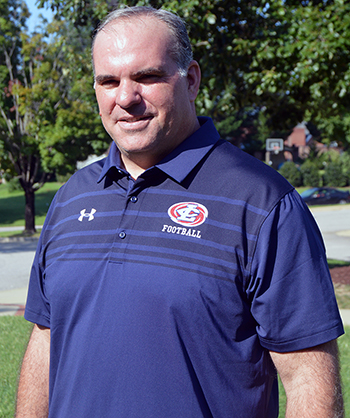 Head Coach Trevor Highfield says fans can expect the team to play three different quarterbacks as it did in both of the previous games: a heartbreaking 30-28 loss and a convincing 65-12 victory.
"It's a feeling out process when we talk about this early in the season and also about their experience as a quarterback group," Highfield says. "We're getting as many repetitions as possible for all three guys, and we'll see which one stacks himself ahead of the rest."
Highfield says he greatly appreciates the fan support for the team over the past several years, which helped the Canes to perfect records during their previous two seasons.
"There's no question that enthusiasm breeds enthusiasm, and the fan support has been tremendous," he says. "It's one of the great things about being North Carolina's junior college football program."
Louisburg College's roster is dominated by players from North Carolina, with a sprinkling of recruits from Southern Virginia.
"Really, it's a North Carolina-driven roster," Highfield explains. "That in turn gets us family and friends coming to games."
Highfield says Louisburg College Football is really the "Best Chance U." He had the slogan printed on t-shirts for the football team. Players are wearing them around campus with pride. The slogan was in response to a Netflix series on junior college football called "Last Chance U."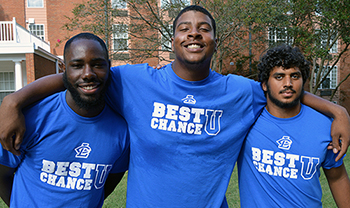 "These young men have a tremendous opportunity in front of them," he adds. "This is a great opportunity, or chance, to make a positive impact on their lives. No one's got it better than us!"
The football team has come a long way since its first practice on a hot Aug. 10th Friday night under the lights on the intramural field. They spent a lot of time together during the first week of daily practices and team meetings. Highfield says that first week of practice was conditioning.
"It's not so much cardiovascular conditioning as it is making sure we do things the Hurricane way," he says. "We want great people, we want a commitment to academic excellence and we want people with a positive attitude. So we're working to incorporate those traits into everything that we do to condition individuals to the Hurricane way."
The team has not only matured and excelled on the field in those few weeks since the first practice, they are also meeting expectations academically and personally.
"We make sure that we're preparing individuals to be successful in life," Highfield says. "That's what we preach."
But, yeah, for the coaches and players it's also about pushing themselves to be the best athletes and team possible. Yet, the understanding is that such a task cannot be accomplished alone.
"If we can get guys to come together, be a family, believe in each other. Then we're going to be very, very powerful," Highfield concludes.