Louisburg College Welcomes Students Home As Fall Check-In Begins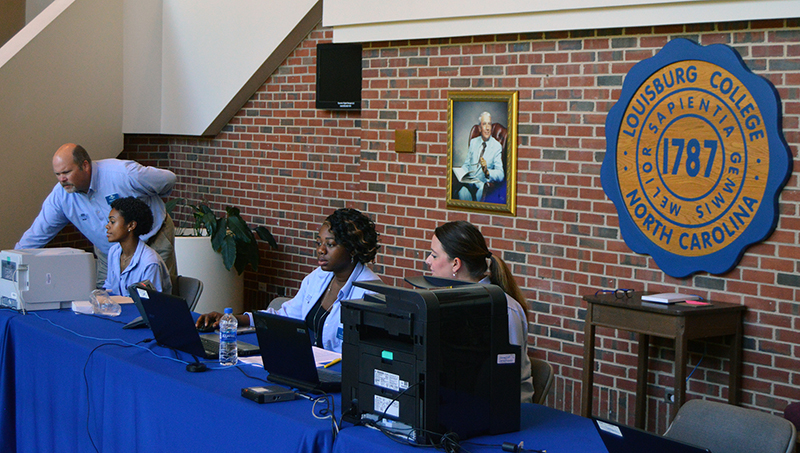 LOUISBURG, NC - Louisburg College helps fall-season, student-athletes acclimatize to the rigors of the academic and athletic year during its early check-in process.
Jason Modlin, Vice President for Student Life with Louisburg College, said a total of 225 student-athletes reported to campus Aug. 10 and 13. There were also 22 resident advisors who checked-in.
"The research is clear that a strong orientation program is vital to student success," Modlin said. "We also host a parent orientation, which is especially important with first-generation students. It helps parents become partners with us."
George Lahai, the Louisburg College student body president and a resident advisor, was one of the first to check-in. His cheerful hello was a welcome greeting to those students and parents who were new to campus. A sophomore from Sierra Leone, in West Africa, Lahai is a business major and honor's student. He said the best things about Louisburg College are his fellow students and the professors and instructors.
"They look after us," Lahai said. "It's like a family."
Skye McCollum, is a freshman volleyball team member from Lake City, Florida. She arrived on campus Aug. 13 with her mother Michelle Richards and grandmother Sandra Haas.
"She's been playing volleyball since she was 13 and was a member of two national championship teams," Haas said.
McCollum had offers to attend 29 other colleges and play volleyball, but after her visit to Louisburg College, she was firm in her decision.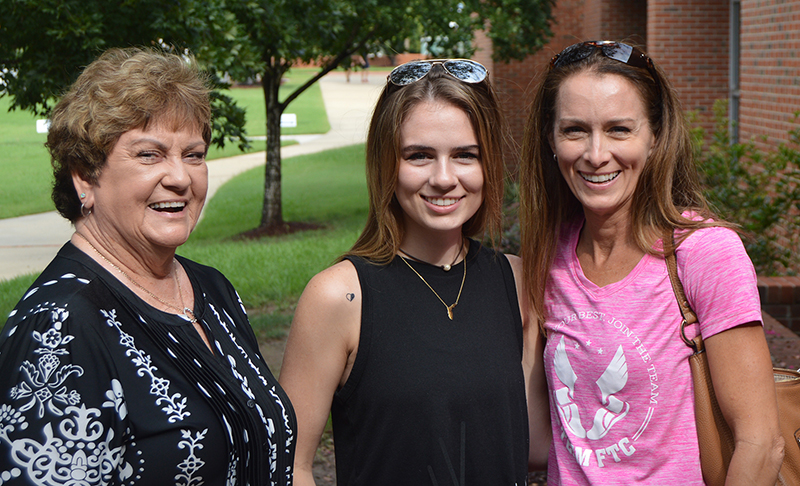 "I went home and said I'm going to Louisburg College," McCollum said. "I liked the coach. I also liked the atmosphere of a small school. It's a beautiful campus, and I wanted to go away from home for college."
This statement brought a beaming smile to her face and made mom and grandma, laugh along with a knowing nod of their heads and tears in their eyes.
"It's like a family experience," McCollum added.
"Everyone here is so welcoming," Haas concluded. "We have trust in them."
Louisburg College Athletics Director Mike Holloman is in his 31st year on the job.
"Athletics starts from the first day of the semester at full-speed," Holloman said. "But they're going to be prepared for school to start."
He said the opportunity to check into school early provides student-athletes with the opportunity to adjust, particularly the football team.
"It gives them a good solid week to practice and get acclimated to the weather and the workouts before they have to start going to class and doing the academic part," he said.
And when classes do begin on Aug. 28, the athletes are ready.
"Our coaches serve as the advisors for the players," Holloman said. "They monitor their class attendance, do progress reports, get updates from professors, and some sports have study halls."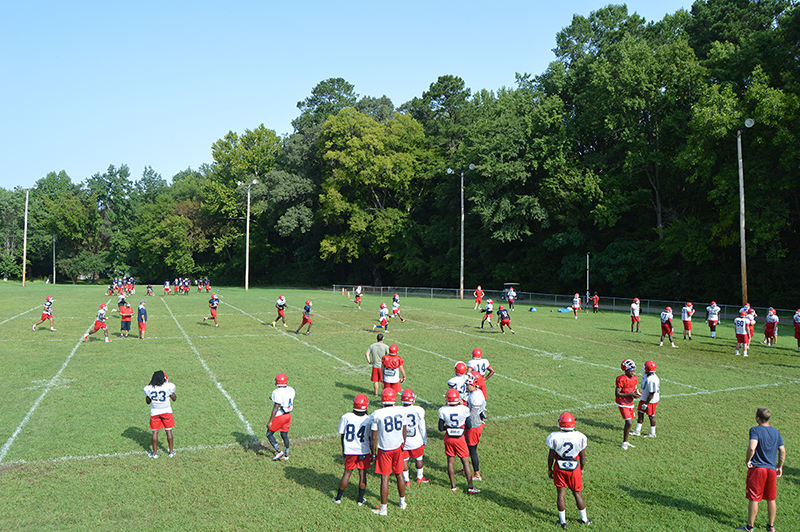 The Louisburg College football team's head coach is Trevor Highfield. He is in his fourth season, and two of them ended with perfect, undefeated records.
"There are two days in the calendar year that are my favorite, and this is one of them," Highfield said. "Parents are dropping off their loved ones, their somebodies, and trusting us with their family members. We get to have everybody back to Louisburg College and back to being part of this family."
Highfield said Graduation Day is his other favorite day of the year.
Jonathon Ward, of Louisburg, is a sophomore business major and honor's student. He plays left guard on the football team. After spending the summer working on a family-friend's livestock farm, he was excited to be back with teammates and away from the cows and chickens. Ward said he hopes his experience at Louisburg College will allow him to move on to a four-year college or university.
Richard Brannon Sr. was dropping off his freshman son Rashad, who is a running back and slot receiver from Charlotte.
"I'm glad to see him back here and in a safe place where somebody can look over him," Brannon Sr. said. "I ain't got to worry about him while he's up here."
Rashad said he's "looking forward to winning a championship or two and then going on to my Division I dream school."