Louisburg College, NCICU Sign Agreement Improving the Transfer Process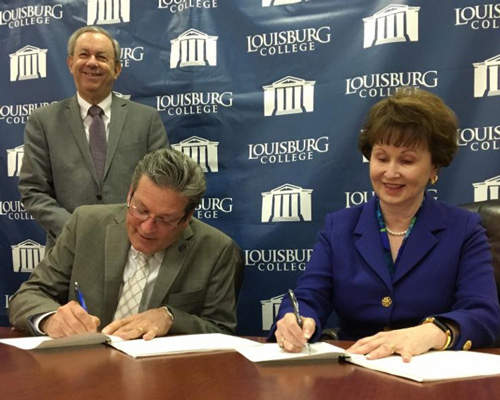 Trustee, Dr. Steve Brooks, President Gary Brown and NCICU President, Hope Williams sign the NCICU Articulation Agreement
RALEIGH, NC – The presidents of Louisburg College and North Carolina Independent Colleges and Universities (NCICU) today signed the Independent Comprehensive Articulation Agreement (ICAA) that better defines transfer options for students from the two-year college to a number of private baccalaureate degree-granting institutions in North Carolina.
"This agreement will make the transfer process more efficient and effective for Louisburg College students," said Hope Williams, NCICU president. "It means increased access and opportunity by clearly defining pathways to success."
The ICAA moves Louisburg College students toward their four-year degree goals by clearly defining transfer pathways and how earned credit hours fit into the requirements of signatory institutions. The ICAA:
Identifies foundational courses that will transfer to all signatory institutions to meet general education requirements;
Improves the success of transferring students through required coursework that ensures students will map their academic pathway to the requirements of the major at the desired independent institution; and
Encourages Louisburg College students to transfer their Associate in Arts (AA) or an Associate in Science (AS) degree by insuring entry to a signatory institution as juniors with full transfer credit.
"Louisburg College has a unique mission as the nation's oldest private, two-year residential college," said Dr. Gary M. Brown, Louisburg College president. "Over 90% of our graduates go on to attend four-year institutions. Today's announcement and agreement ensures that our graduates' programs of study align with the private four-year college or university of their choice further helping them make a smooth transition into their future."
The ICAA is consistent with the comprehensive articulation agreement between NCICU and the North Carolina Community College System, meaning students will have the same transfer guarantees regardless of the type of signatory North Carolina institution they attend.