Faculty Achievement
Dr. Kelvin Spragley and Mrs. Caitlin Frederick at the NCACTE in Raleigh, NC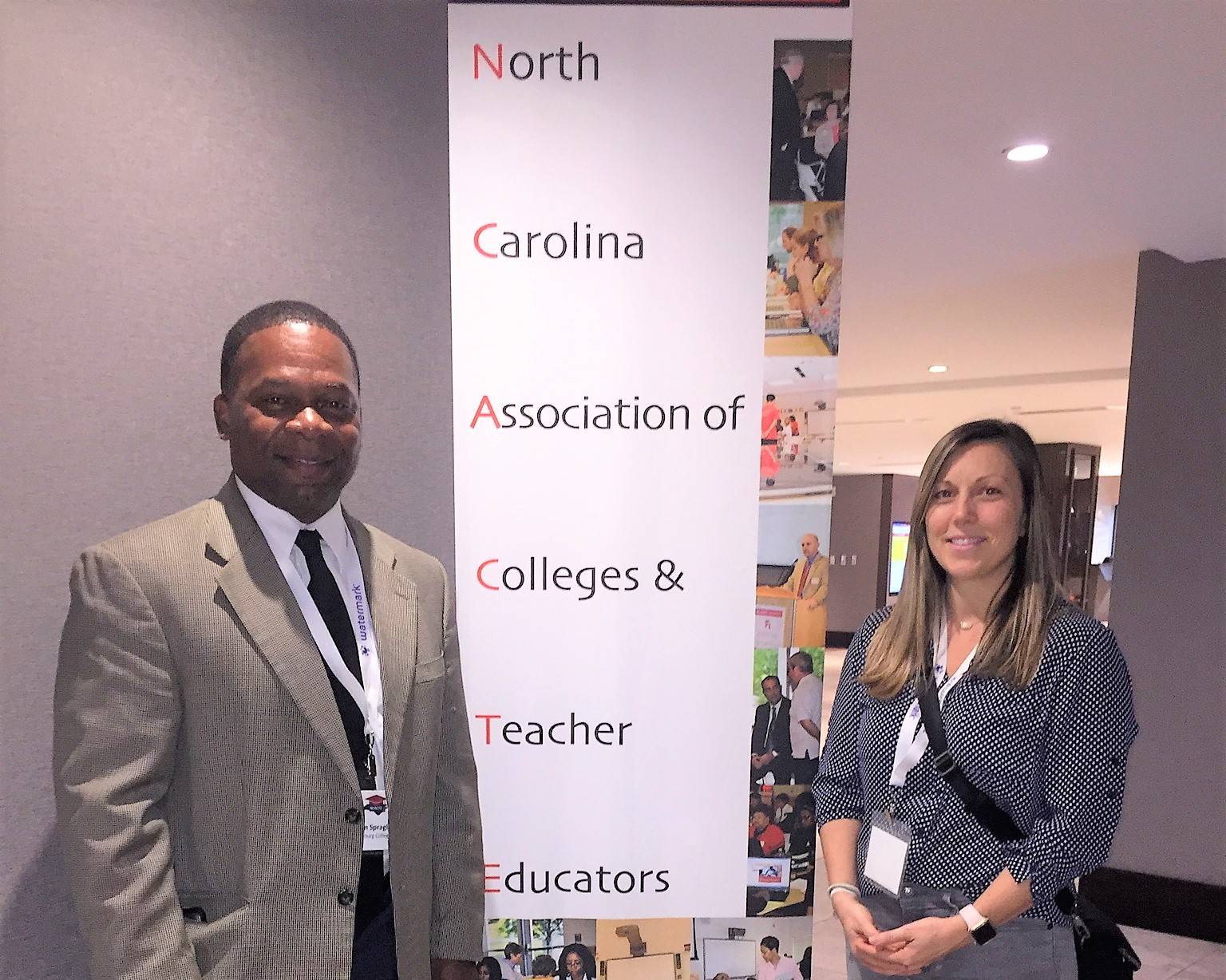 On Tuesday, October 1, 2019, Dr. Kelvin Spragley and Mrs. Caitlin Frederick were invited to present at the 37th Annual North Carolina Teacher Education Forum (NCACTE). Back in May of this year, the two had submitted a proposal to NCACTE, where they were seeking to share the results of Louisburg College's education initiative for the past two years. In addition, their goal was also to make recommendations to other institutions regarding the importance of strengthening the first two years of pre-education programs in North Carolina.
Their presentation, ""Do I Really Want To Teach?": Intensifying the First Two Years of College for Pre-Ed Majors," outlined the Associate of Arts in Education degree at Louisburg College and also noted that the program was different than most as a result of the requirements that extend beyond coursework. Specifically, Dr. Spragley and Mrs. Frederick outlined how the program at Louisburg College required 60 volunteer hours, mock interviews, capstone, and practice versions of the Praxis Core. They emphasized that these requirements are what really provide students an in-depth perspective on whether or not they want to become teachers and educators. Additionally, the two shared trendline data on their previous students--this data illustrated that the aforementioned requirements have aided them in being successful at their senior institutions, where in at least 14 cases (out of 16) students are pursuing a BA/BS degree in education.
Other conference participants who attended the session were very impressed with the structure, format, and theoretical framework of the Louisburg College Education Initiative. As a result, Chowan University and East Carolina University personnel are in the process of seeking an articulation agreement/education partnership between Louisburg College and their respective education programs.
Dr. Spragley and Mrs. Frederick both work with Louisburg College students who seek to become future educators.
Kudos to them!!