Four Students Win Spot in National Business Competition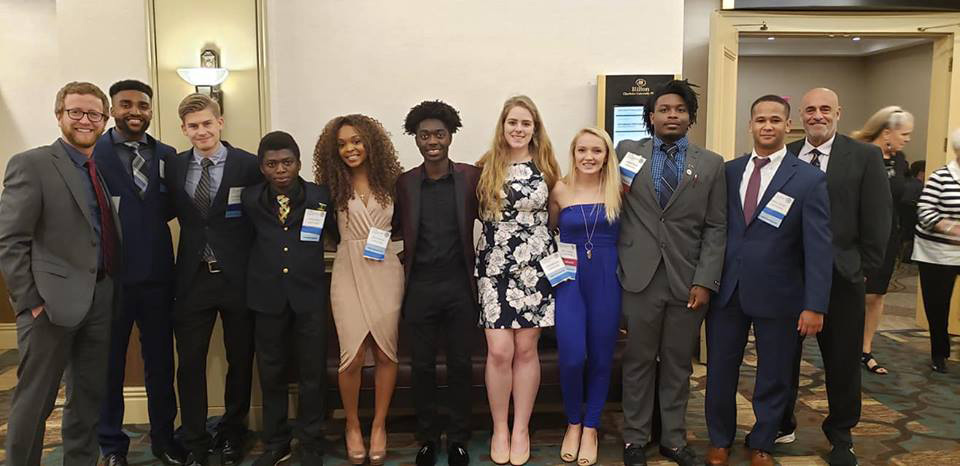 Four Louisburg College students placed high enough in a business competition to earn them a spot in a national competition in San Antonio, Texas.
The club is called Phi Beta Lambda. It is the college version of the Future Business Leaders of America, an organization offered at the high school level.
Business Professors Brian Sanders and Scott Benrube lead the club as Phi Beta Lambda Chapter Advisers. It is open to anyone on campus, not just business majors. Students just need to have an interest in the field and be willing to put the work in to be successful.
This year, Sanders and Benrube took a group of ten students to the state competition in Charlotte to face other colleges and universities, including many four-year institutions.
To compete, students had to choose two events from a list of about 50. They have the option to show their expertise by taking an exam or doing a presentation.
But, Sanders says he encourages all students to do at least one presentation, "We steer them to present. A lot of them have said getting in front of a panel of judges that you don't know at all is a great experience. It builds confidence. Students who have gone on and graduated say it was a worthwhile experience."
Freshman Emil Andreasson placed first in both of his events. He competed as an individual in the Business Sustainability category and then teamed up with sophomore Nelson Donynath to take the top prize in the Emerging Business Issues category. Sophomores Jodie Summerlin and Aliza Williams competed as a team and placed first in Business Law.
Professor Sanders says there was some tough competition this year, "There were over twenty schools competing in this year's competition. Some newcomers, such as East Carolina University and Chowan University, joined the field with some perennial Phi Beta Lambda powerhouses like Appalachian State University, Barton College, and the University of Mount Olive."
In addition to the top finishes and bid to nationals, the Louisburg College team made a strong showing in other areas as well. Justice Green took third place Hospitality Management, Jodie Summerlin ranked third in Business Ethics and teammates George Lahai and Nelson Donynath took fourth. Matt Bown took fourth place in Computer Concepts and Aliza Williams received fourth place in Business Sustainability. Miya Hargraves and Kanani Sipriene also competed and made an impressive showing.
Current freshmen and incoming students are encouraged to consider joining Phi Beta Lambda during next academic year. Information will be available at the club fair, held annually on campus.