Hurricane Prep Day Reservation

After paying your deposit, you should immediately make a reservation for Hurricane Prep Day with your Admissions Counselor. Hurricane Prep Day is a one day event at which you will:
Meet fellow classmates

Confirm your housing assignment

Complete course placement assessments

Attend informational sessions

Select classes in consultation with your Academic Advisor
You and your parent/guardian will also meet with your Financial Aid Counselor to review your financial aid package and ensure you are ready for check-in.
June 22, 2020
June 27, 2020
July 11, 2020
July 13, 2020
July 22, 2020
July 27, 2020
August 3, 2020
2020 Placement Test Prep:

Hurricane Prep Day Event Highlights:
Time

Student Schedule

Parent Schedule

8:30 am - 9:30 am

Check-In, Located outside of JPAC (E-4)

9:30am - 10:00 am

Welcome (via Livestream), Located in Taft (E-2)

10:00am - 12:00pm

Passport to the Fall*

*students will be with their Hurricane Advisors

& session locations include

Jordan Student Center (W-14), Davis Bldg (W-10),

Benson Chapel (W-1), and Taft (E-2)

Parent Orientation Part 1

Located in Taft (E-2)

12:00 pm - 1:00 pm

Lunch , Located in Dining Hall & Patio (W-14)

1:00 pm - 3:00 pm

Placement Testing & Advising

Located in Taft (E-2)

Parent Orientation Part 2

Located in Taft (E-2)

3:00 pm - 4:00 pm

Hurricanes Final Check, Located in the Library (E-1)

Please note: Parents and Students are required to attend Financial Aid Appointments. Please make note of your appointment time and excuse yourself from the session you are attending. Please be sure to arrive 10 minutes early to your scheduled appointment.
Campus Map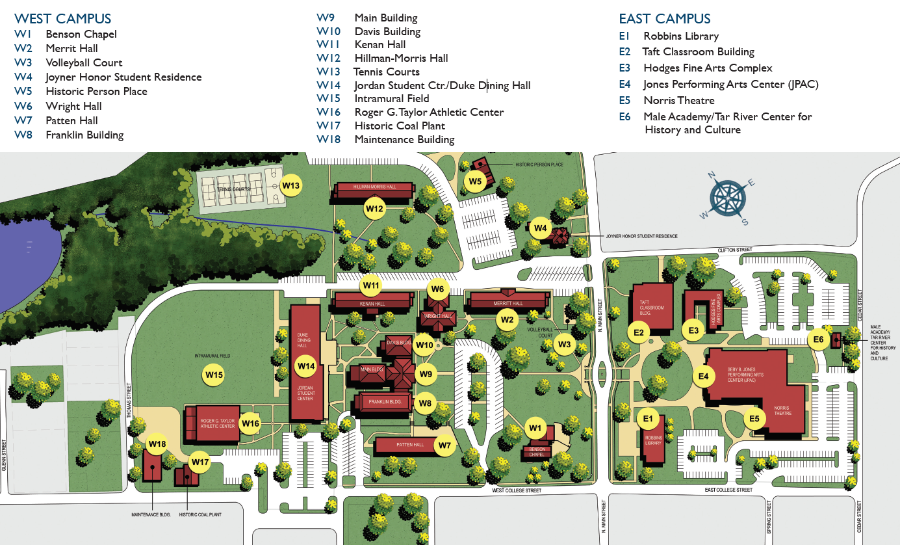 Questions?
Please contact the Admissions team at (919) 496-2521. We look forward to seeing you there!