Esports Competitive Gaming at Louisburg College
Esports Competitive Gaming at Louisburg College
Creating an esports arena, launching a varsity sport, and developing gamers of character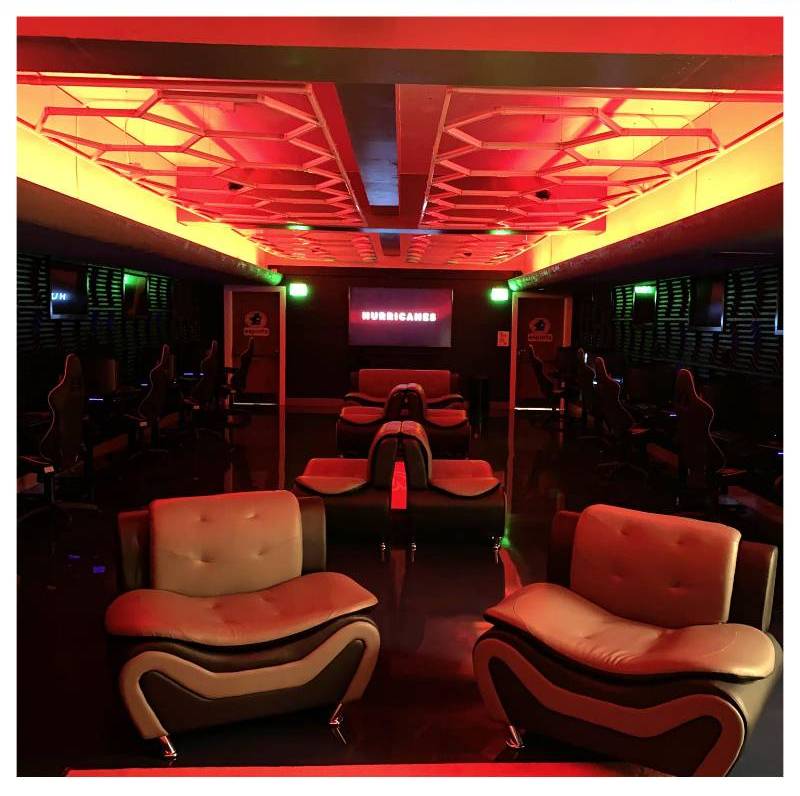 Parents visiting Louisburg College might be surprised to learn about the college's new, state-of-the-art esports facility, but chances are, their student is not. The world of competitive gaming has been on a steady rise for decades, with the first esports competition taking place in the 70s for the classic arcade game Space Invaders. But esports competitions of the modern age have blown past Space Invaders, with the industry's revenue surpassing one billion dollars a year and the largest esports event, The International, filling 174,000 seats and streaming to over two million online viewers. One of the largest demographics of esports? Teenagers.
Louisburg College has a long tradition of athletic excellence, and adding esports to its roster was another way to provide a space for student-athletes to thrive. Faced with the potential to pursue this opportunity, a group of Louisburg staff looked at the basement of the college's library and imagined an esports arena. One of the team members, Associate Vice President of Facilities Nathan Biegenzahn, stated, "Once the college decided to offer an esports team, I wanted to try to create something unique and different than other arenas that I viewed online." Upfitting the space meant thinking creatively. An old film projector room became the new broadcasting booth, LED lights with multiple lighting configurations replaced fluorescent lighting, and with changes in flooring, wall texturing, and a whole lot of computers, they had an esports arena.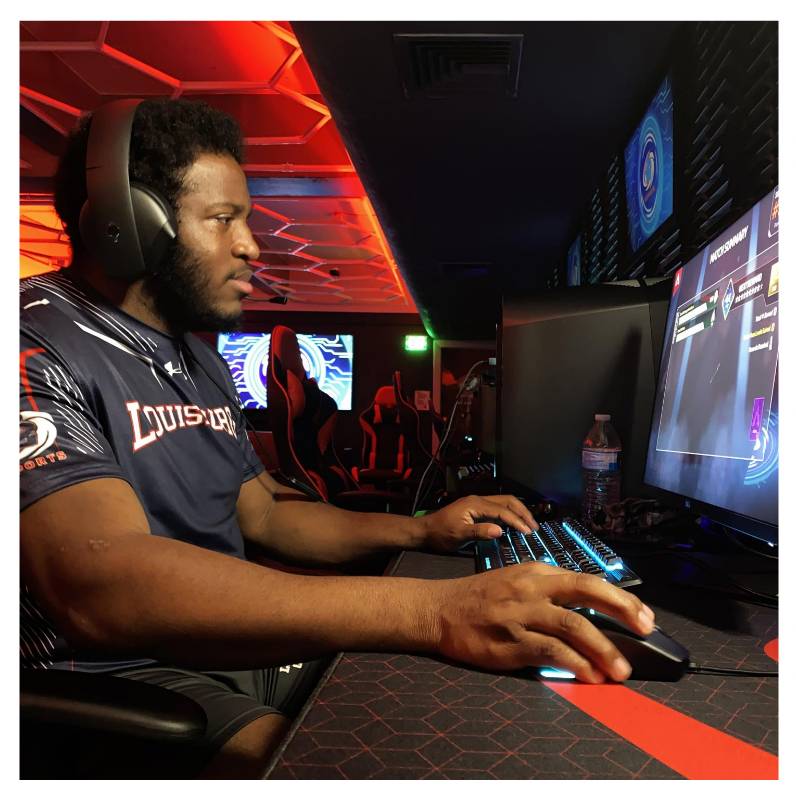 After envisioning the space and beginning the uplift, it was time to hire a coach. But who do you hire for a position that has really only existed for five years? Someone who's launched an official varsity esports program before. Athletic Director Mike Holloman says, "BJ is a long-time gamer who is very knowledgeable with multiple video games and recruiting esports students. He also started a successful esports program at a small college in his previous job. We think his previous experiences along with his personality and work ethic make him a great choice for our position. Our students are in great hands under Coach Fink's leadership."
Part of Coach Fink's personality is positivity, and creating a positive gaming culture is part of his mission for a sport that is known for toxicity. Through his coaching, he's determined to develop athletes who are gamers of character. Fink says,
"Gamers of character means that not only are we teaching students industry skills, but they are learning how to be professional and change the narrative of gaming from a toxic environment to one of community building and understanding.
While Coach Fink's primary goal is character development and cultivating skills, it never hurts to win. As a part of the NJCAAE, the LC esports team is having a successful first season in Call of Duty: Black Ops Cold War, Madden, and FIFA, competing against junior colleges and community colleges across the United States. Coach Fink is excited about this new venture and the opportunity to, "Provide a place for a previously unreached population on campus; adding value through esports education and competition while increasing recruitment for the school at large."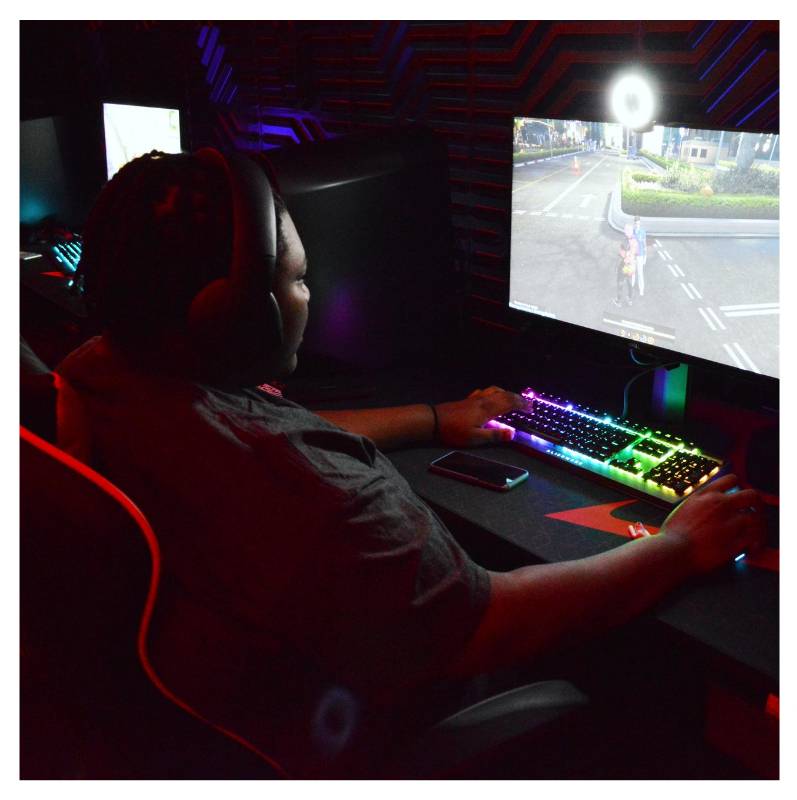 The LC Esports team currently competes in Rocket League, Apex, Fortnite, Call of Duty, Madden, NBA 2k, FIFA, and Rainbow 6, but if students can assemble a team, they are welcome to play just about anything. Just like traditional sports, the NJCAAE hosts 8-9 week tournament-style competitions where teams make playoffs based on their win/loss record. However, competition is not the only aspect of the program. Students become content creators by live streaming tournament matches, broadcasting the games they're playing, sportscasting, creating web show originals, shooting reaction videos, and more. Students have access to equipment including 10 Alienware computers, 15 TVs, games, a streaming booth and broadcast station, Eureka Gaming stand-and-sit desks with wheelchair access, key lights, and multiple streaming cameras. COVID safety precautions were also considered in the space, with desks spaced for social distancing, active air filtration air scrubbing machines, and UV-wand keyboard disinfectors. Louisburg College's esports arena is perfect for competitive gamers and content creators, and the program has plans to only grow more opportunities for students.
Interested in LC Esports? To join the program, apply to Louisburg college. Esports athletes must be enrolled as a student at Louisburg College and maintain athletic eligibility under the NJCAA. Scholarships for competitive games and content creators are available. Contact Coach Fink at bfink@louisburg.edu for more information.
Recognizing those who brought this project into fruition: Lisa Allen, Nathan Biegenzahn, Anna Faatiliga, Mike Holloman, Adam Snell, Stephanie Tolbert, Gary Williams, and the facilities team.