Student Spotlight: Taylor McQueen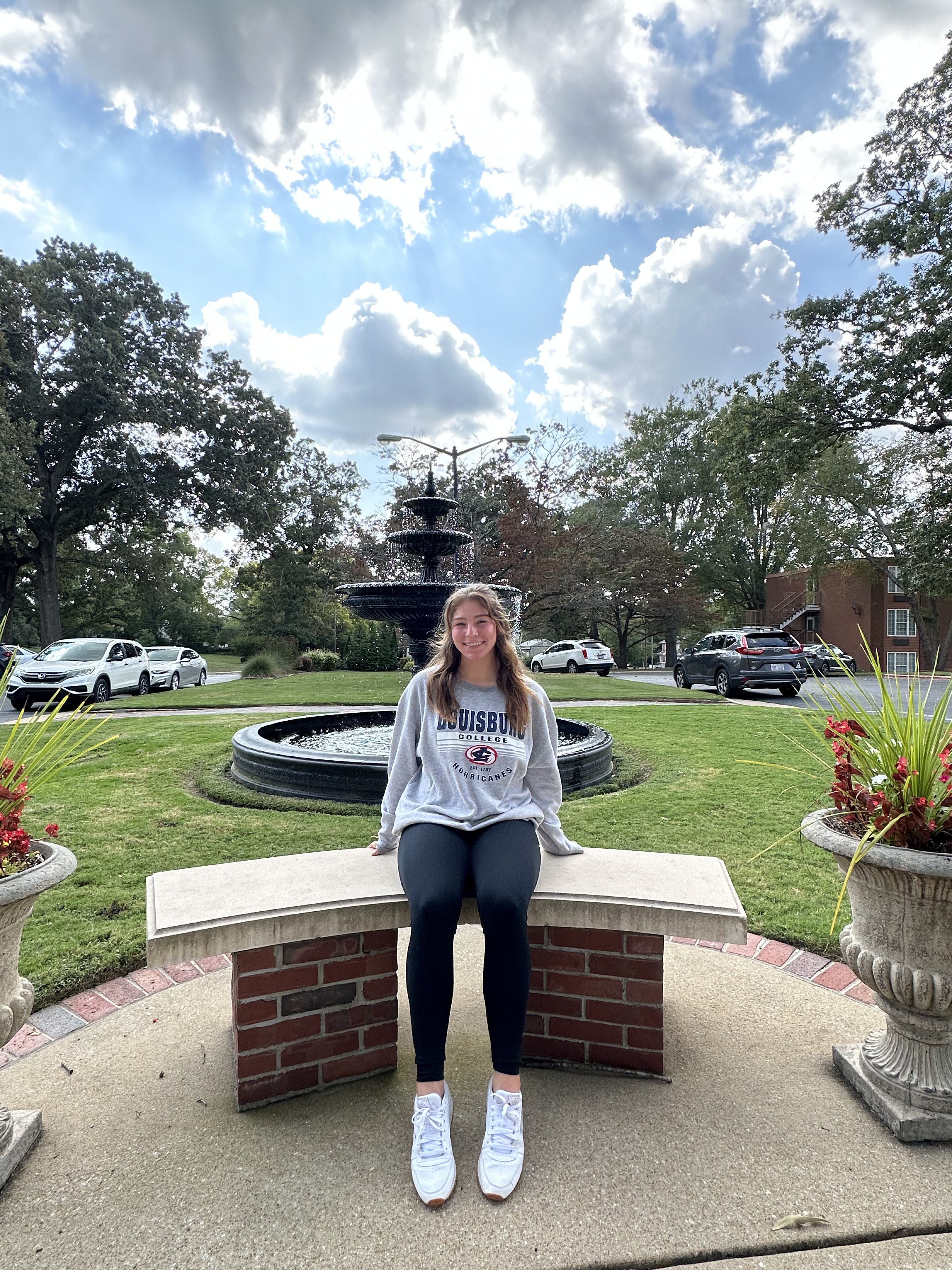 Taylor McQueen is a Sophomore at Louisburg College studying for her Associate's in Science.
Originally from Clayton, North Carolina, McQueen is a member of the Louisburg College Softball team and Whitehead Leadership Program. When she's not playing or studying, she enjoys hot yoga and going for walks in the woods to enjoy nature.
McQueen's decision to come to Louisburg was fairly easy. Having known Softball Head Coach Eric Lee since her travel ball days opened her eyes to the college. Having friend and teammate Zoey Jones commit as well made the decision a no-brainer.
"Coach has been there my whole life, and he always wanted me and Zoey to play for him," McQueen said. "Then he sent an offer to us both, and we were like, 'That's our opportunity to play softball together in college.' So, we made a pinky promise that we would come here."
McQueen committed to Louisburg a year and a half early, during the beginning of her junior year. She loves the team and community that the sport has created for her (and her friends) here.
"Louisburg College softball holds a special place in my heart because of the culture surrounding the team. There's nowhere else like it," McQueen said. "They're literally like my family."
McQueen played with the softball team as a catcher and hitter during their run at the 2023 NJCAA Softball World Series. Although the team's goal fell short by two games, McQueen has a positive outlook on this season. When discussing her goals for the upcoming year, she explained that she's keeping the same mindset - to strive for a big win and to have fun.
"[My mindset] is the same as last year - a growth mindset," McQueen said. "And the word we had last year - fargin - to be happy for the successes of others. Even if I'm not the one who hit the game-winning hit, I'm just so happy because we're still a team. That's all I care about."
McQueen is also a member of the Whitehead Leadership Program, a program that provides young women with resources and activities to help them achieve their goals and become the leaders of tomorrow.
"I love [being a Whitehead scholar]. I get to stay in the cool house," McQueen joked. "I love the feeling of community and all of the girls are so nice. [The program] will help me with things that they're not going to teach you in a classroom. Like life lessons, leadership issues, and how to make new friendships. I really love it."
Outside of softball and the leadership program, McQueen loves the academics of Louisburg College. As part of the Science program, McQueen is taking biology, anatomy, and genetics.
"I really like the science program and how there's only a couple of students in the student-teacher ratio. Me and Dr. Cook [science professor] are really close," McQueen said. "It's not like I walk into a big lecture and they wouldn't even notice if I wasn't there. She knows when my games are and reaches out. I like it.
"I also like Dr. A[fanasayeva, math professor]. She's really good at teaching math and helping students understand it."
While looking forward to the next part of her journey, McQueen wishes to savor every moment while still at Louisburg.
"[I want to] hold onto everything that I can while I'm still at Louisburg because it's the best time of my life right now. I'm definitely soaking it all in," McQueen said. "Everyone makes that joke, 'I want to stay here for four years,' but seriously, I would stay here. Everyone here knows each other and everybody is funny, [so] I don't want to leave all these people."
McQueen's advice to incoming students is to talk to people on campus and make friends.
After graduating from Louisburg College, McQueen will be attending Wofford College to study environmental science. Her ultimate goal is to help scientists develop and grow algae that astronauts can turn into food during space exploration.