Orioles' Seth Johnson, Louisburg Alum '18, Ready to Pitch Again After Surgery Recovery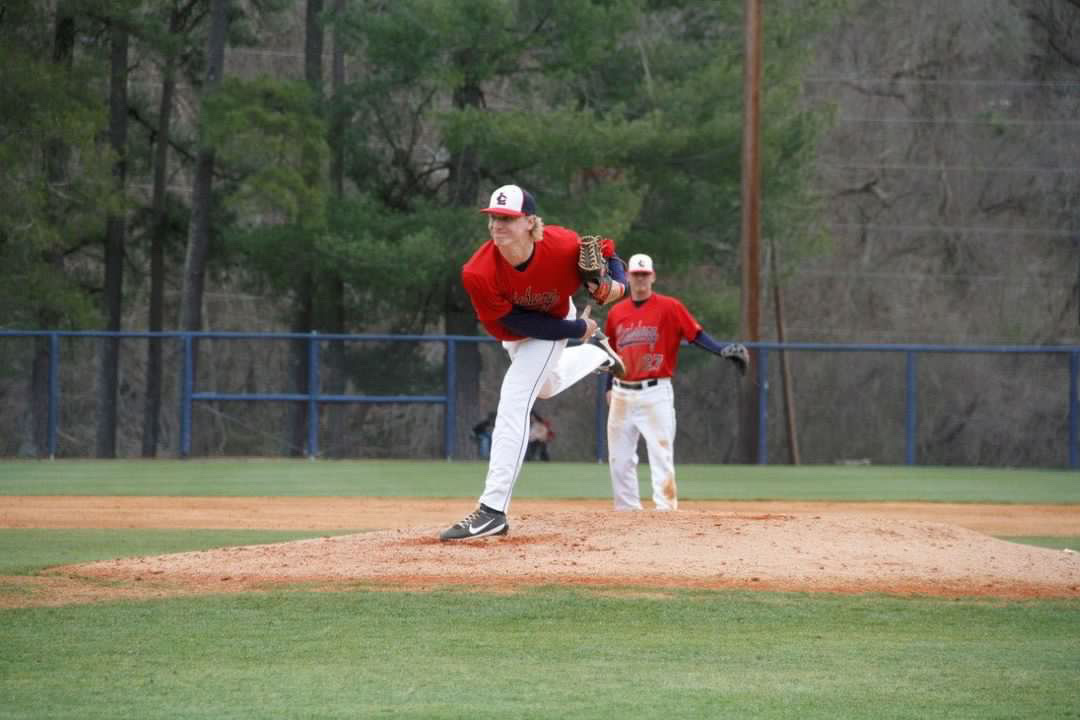 Traded to the Orioles in 2022, Seth Johnson is on the mend from Tommy John surgery. Johnson hopes to make a return to the mound during the 2023 season. We had a small chat with Johnson about his experience at Louisburg and his hopes for the future.
W: I'm going to be to ask you to introduce yourself. What year did you graduate from Louisburg? Where are you originally from? And just a fun fact, fun fact about you.
J: Seth Johnson, originally from Concord, North Carolina. I graduated from Louisburg in 2018. And my fun fact is that I didn't start pitching until my sophomore year at Louisburg, and that is what I currently do for a living.
W: I saw that earlier. I was doing a little bit of reading up. And you originally played shortstop?
J: Yep. Yeah, I was a shortstop. I was in high school and stuff. And that's actually how I got to Louisburg. I didn't pitch at all, I didn't have any plans to pitch but Coach Herring at Louisburg was the only college coach to give me an opportunity to play college baseball. So I'm very grateful for that.
W: And so what was that transition, like going from shortstop into pitching especially since you have been playing baseball for so long before you started pitching?
J: It was kind of fun. Like I don't really know what to expect. So that kind of kept it a little more fun. Like there was any pressure or anything. Again, credit to Coach Herring for, you know, letting me give it a shot. He could have very easily said we're not going to try that. You know, none of this would have happened.
W: What was it like to be able to play under Coach Herring, aside from helping you learn and transition into pitching? What was it like to be able to play under him for those two years?
J: I loved it. I thought he was one of the best coaches I have ever had. You know, the baseball side of it, he's a genius, but also with like teaching us how to be grown men and take care of ourselves and how to be good people and do things the right way. I thought that was really important and really formative to who I am today.
W: Definitely. It's good to have that type of support system and to have people who want you to do better not just in your craft but also in life. I do want to go back a little bit just back in the timeline a little bit to ask, how did you find out about Louisburg college?
J: It was the summer before my senior year. I was playing a tournament up in Raleigh. He reached out to me after a game, gave me his number, gave his contact information, and invited me on a visit. And at the time, personally, I'd never heard of Louisburg but my dad grew up in Durham and he knew. I mean back in like the 60s and 70s Louisburg was a powerhouse, and he heard about them and we went on a visit and got the offer there. A couple of days later, I committed.
W: What about Louisburg - considering you didn't really know much about it, but your dad knew a bit about it, especially about their baseball - drove you to it the most?
J: [When I visited campus] it just hit all the boxes that I wanted to check. You know, I liked the smaller campus feel. I just like there's like on-campus housing so you kind of got that four-year school feel, but I didn't do that. And then Frazer field was stunning to me and the baseball side of it really got me excited. And as I learned more about the educational side I got more excited.
W: What are some of your favorite memories from your time at Louisburg? These can be academic, social, or athletics related.
J: Probably sophomore year, a lot of sophomore baseball players were in the same hall on the same floor and stuff. So, we spent a lot of time just going room to room hanging out with each other and there's not really any specific memories from them, but it's just getting to hang out with your teammates and your buddies every day and anytime you can just walk through a room and go hang out with somebody that was really enjoyable for me.
W: Do you still hang out with some of your teammates from your time at Louisburg?
J: It's a little harder to hang out with them just because they all kind of live in different places. But we have a group chat from when I was there. It still stays pretty active with guys talking to each other, just sending updates and all that good stuff.
W: Nice. Yeah, I know. It's kind of hard after you've graduated you all go different routes in life. But I am glad to hear that you still keep in contact with them. Besides being able to hang out with them, is there anything else that made your time in Louisburg really special to you?
J: Just kind of the whole transition into pitching. This was such a pivotal moment in my life that every time I see a video from social media that was for baseball, and I see them in the batting cage where I started to pitch in that one off day where I hopped on the mound and threw that always just makes me smile.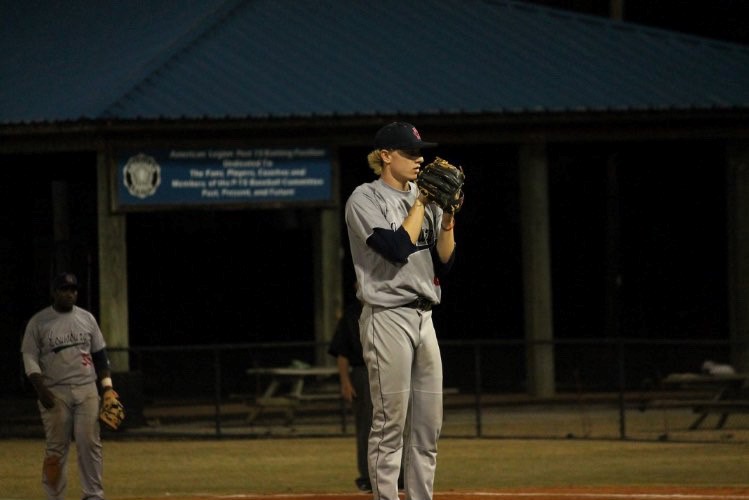 W: And what did it feel like the first time you threw a pitch and your coach looked at you? Was he like 'that's what you should do'?
J: Oh, it was kind of funny. So when I first threw a pitch, it was like we had an off day. So it was just a bunch of players only down in the batting cages, hitting it. We were kind of goofing around. And then I hopped up on the mound and someone had a Pocket Radar - like a little miniature radar gun. And I just started throwing out because I wanted to see how hard I could throw and, you know, hit a pretty good number. And then the next day, I asked Coach Herring like "Coach can I pitch?" and he goes "I can't tell you but we'll see." And then, you know, the opportunity arose and he kept letting me pitch so I think that kind of said it all.
W: You started it [pitching] but he kind of gave you the extra push. I want to transfer over a bit. How did you go about transferring over to Campbell?
J: Oh, it was actually pretty easy. One of my Louisburg teammates was actually transferring over at the same time I was, so we got the room together and stuff and that made it a little bit easier. Just having a familiar face on the baseball side, but I felt prepared and on the academic side I felt prepared.
W: How do you think the transition from high school to Louisburg to Campbell was?
J: I think Louisburg was like the perfect stepping stone for me, personally, because I've never really been away from home. And it wasn't too far away from where I grew up. But still, once I got there, I never really went home and I thought it was like a really good stepping stone to learn how to take care of my stuff and myself and get stuff done on my own. So that's how I got to Campbell. So it wasn't very difficult to make that transition.
W: Transitioning over from school into your professional career. How did you feel when you first got selected to play professional baseball?
J: [It was} a really cool moment. It was one of those things where it really took a while for it to kind of seep in. And even still today, I kind of have to put things into perspective that I am just playing a game for a living. And that's pretty cool.
W: Your first original offer was from the Rays.
J: Yep. From the Tampa Bay Rays. And then last August, I got traded over to the Baltimore Orioles.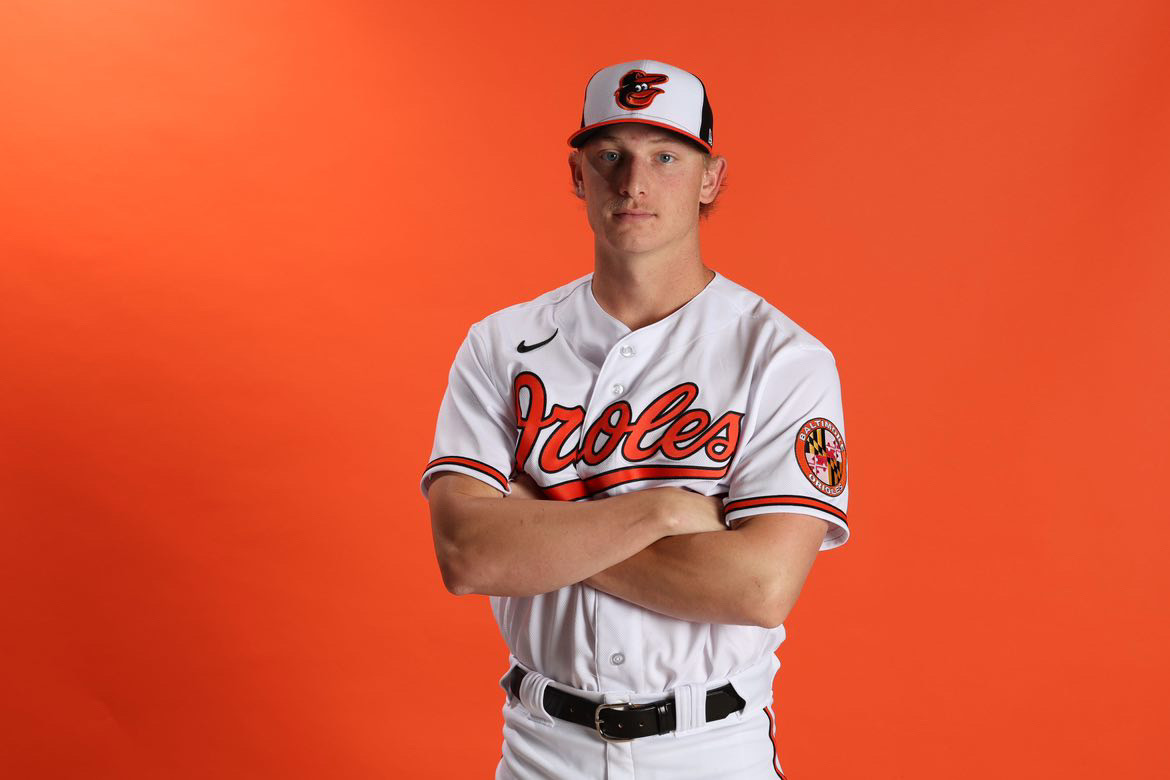 W: What was it like? What was your reaction to being traded? Because you had been with the Rays for a while. So how did they feel to hear that you were being traded over to the Orioles, were there any feelings of nervousness or excitement?
J: Oh, a little bit of everything. It was kind of a weird time to get traded because I was actually in Texas to get surgery on my elbow - because I had torn a ligament and decided to get it repaired. And two days before my surgery, I got the call back that I traded.
So it was already kind of a hectic week with doctor's appointments and then had to meet with a whole new organization. [There were] a lot of phone calls and a lot of trying to meet people who I couldn't put a face to quite yet so it was a roller coaster. But [there was] also a lot of excitement.
W: And your surgery was a Tommy John surgery, right? How has it been trying to recover from that get back into the swing of things? How has it been transitioning since the surgery?
J: It's been going well, I'm still about probably five months away from being back in games and stuff. But, you know, [I'm] getting there. [I] actually started the rehab process with the Orioles and with their staff. And their guidance has been, it's been going really well. I haven't had any issues, haven't had any setbacks, or anything like that.
W: I'm glad to hear that. I know you're probably super excited to be able to play in an actual game. I know you said you have about five months left of healing. Do you think you'll be able to come back this season?
J: Well, it might be the very end. It kind of comes down to like what the Orioles decide to do there. So I'm open for the last month of the season to be able to throw a little bit but I've just got to wait and see because it's still so far away.
W: But you sound like you're super excited and ready to throw. So I hope they put you in soon.
J: I appreciate that. I'm very excited.
W: What's it like being able to play in front of tons of fans?
J: It's pretty cool. I haven't played in front of like 40,000 people yet but, still, once it gets over a couple 1000 people the crowd it's just kind of like white noise. So you don't really hear any specifics or anything but there's still that huge adrenaline rush when you run out there. There's just a lot of people there and you can feel their excitement. It's really cool.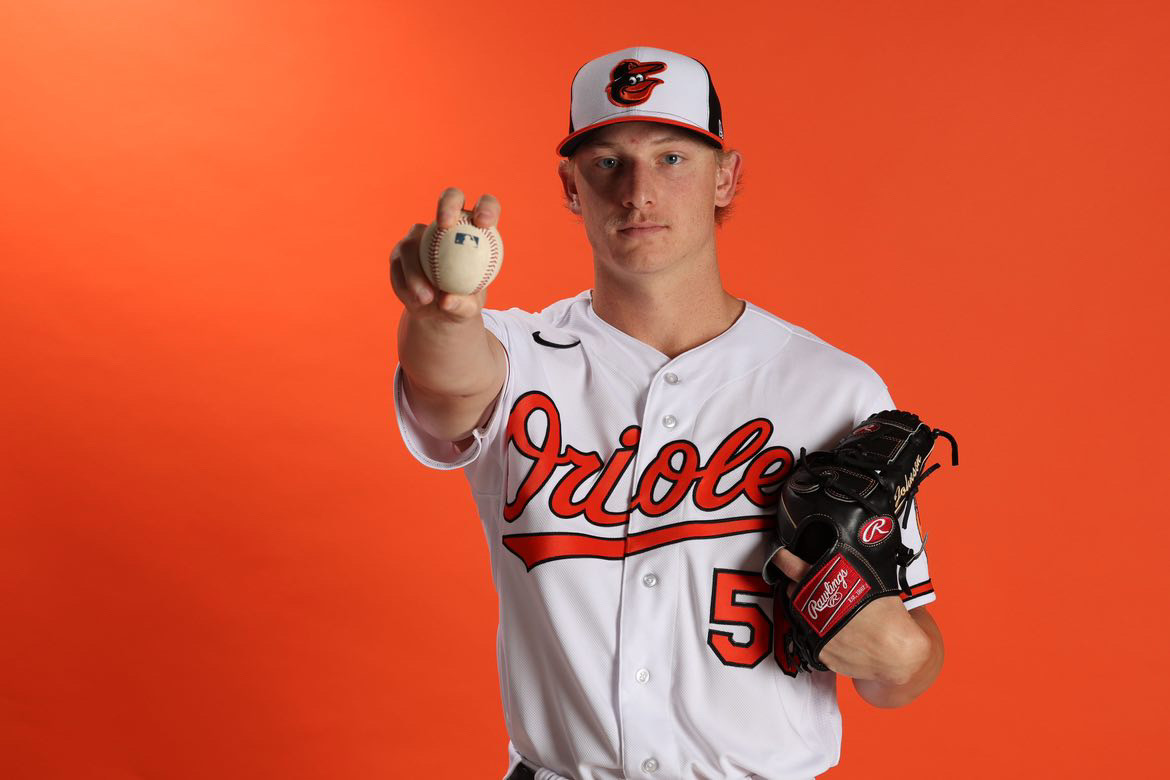 W: What are your hopes for the upcoming season? When you get back to playing, what are your goals for when you get back on the mound?
J: Honestly, just trying to get back to where I was right before I got hurt because I was in a really good spot. Pitching wise I felt really good with all my pitches and I felt really good physically. So really going to try to get back to that spot. But I'm just looking forward to getting back on the mound and staying healthy and being able to throw the innings that they read me in for.
W: My last question is, what is some advice that you would give to the students at Louisburg or in any college? And what about to student-athletes? What would you tell them as they plan out their seasons and transferring out (for our sophomores)?
J: Yeah, for student-athletes: just take care of your body. I know, it's college, so some decisions are going to be made. But whenever you can just prioritize your health and take care of your body and make sure that you're ready to go out to the field and compete every day.
And for students as a whole, just take advantage of the resources available. If your professor has office hours, you should go see them and get the help that you might need for that class.
W: Alright, that was everything. Thank you for talking with me today.
J: Thank you.
*Photo credit to Seth Johnson and the Baltimore Orioles*