Student Spotlight: Jacob Chacon-Martinez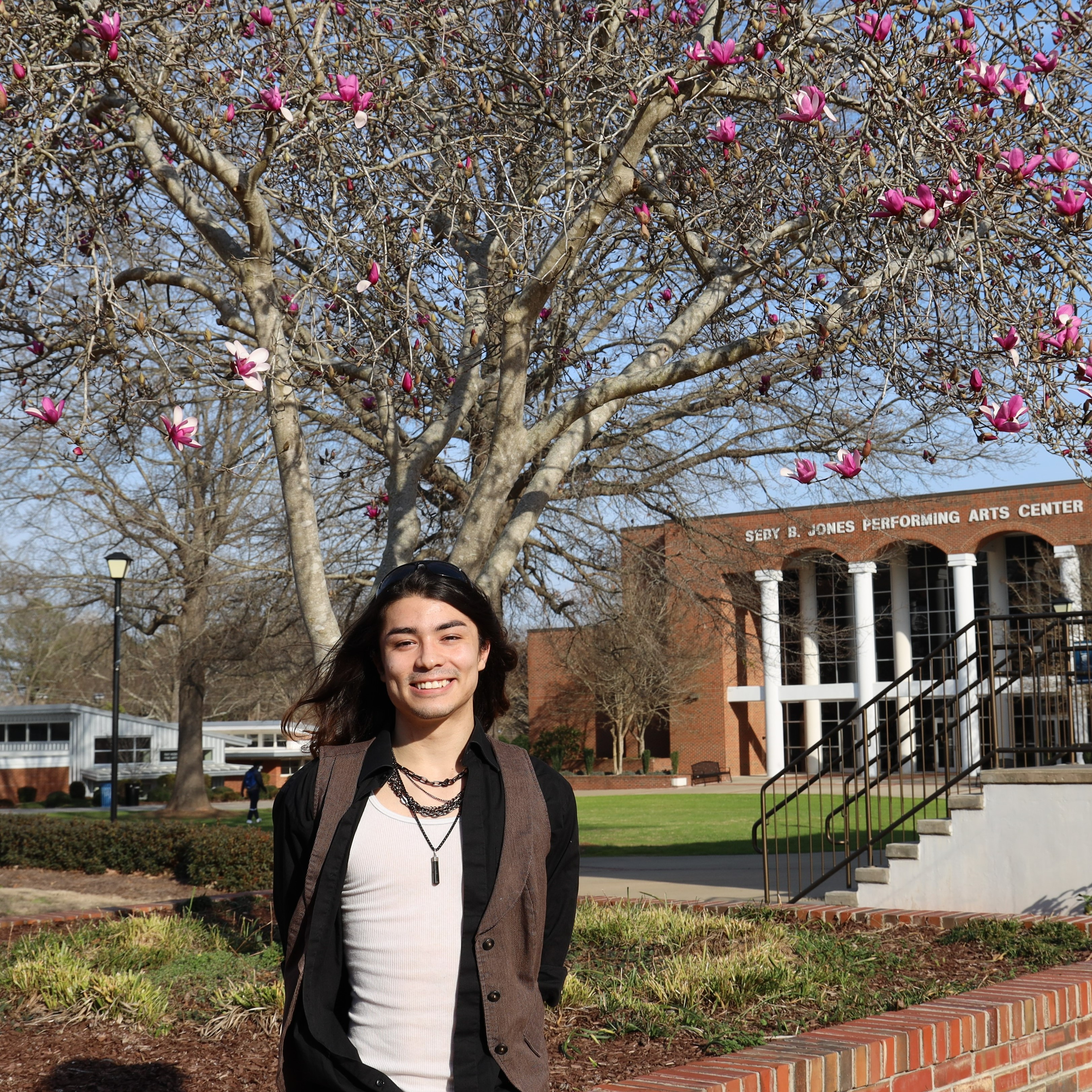 Jacob Chacon-Martinez is a sophomore at Louisburg College finishing his Associate of Arts - General College.
Born and raised in Colorado Springs, Chacon-Martinez loves reading and video games and is a student-athlete on our Louisburg College Cheer team. He enjoys, at the moment, reading femme fatale and strong women and playing action video games.
"I read Gone Girl and became obsessed with it [books that follow the same narrative]," Chacon-Martinez said. "I've also been playing Mortal Kombat, Batman, and things like that."
Chacon-Martinez found out about Louisburg College through our cheerleading program. While cheering in high school, Chacon-Martinez's coach was reached out to by the cheerleading coach here at Louisburg College.
"She'd reached out to my coach and asked if I wanted to cheer in college," Chacon-Martinez said. "And every school in Colorado had a full roster, but I really, really wanted to cheer in college. So, Louisburg was the best fit."
Chacon-Martinez, while far from his hometown, is glad he chose Louisburg. He believes that he needed the two-year experience and the small-town feel. He feels that being at Louisburg allows him to be seen as an individual instead of a statistic.
"I really love being a name rather than a number," Chacon-Martinez explained. "Especially here. All of my teachers and the faculty know me, so it's good to be an actual person instead of a number."
Chacon-Martinez also loves Louisburg for giving him a chance to continue with his passion - cheer. While at Louisburg, Chacon-Martinez was a member of the Cheer team that brought home a Christian College Athletics (CCA) championship (2022-2023 season). He was also able to find his own footing in the sport.
"I believe that Louisburg College has really given me that spark of hope in myself again," Chacon-Martinez said. "Because coming here helped me to believe that I can do amazing things."
After graduation, Chacon-Martinez hopes to go to a four-year university, such as Stetson, Colorado State University, or CSU Pueblo for cheer and to study for his Law degree.